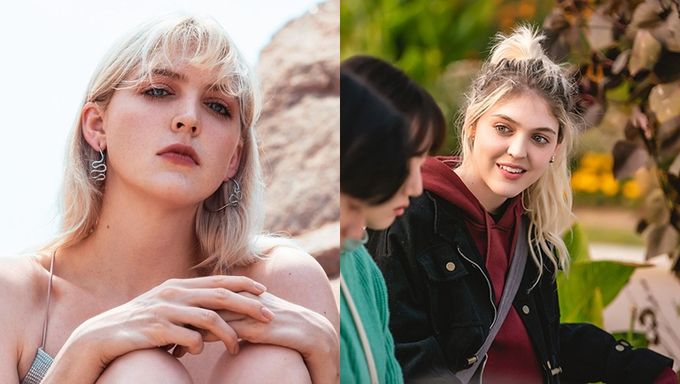 We are back with one more actress from the Netflix sitcom "So Not Worth It" which is gaining attention for its multi-cultural cast!
"So Not Worth It" tells the stories of international students mix together inside a colorful college dormitory in Korea. These eight students come from Korea, the U.S., Australia, Thailand, Trinidad and Tobago, and Sweden.
After Terris Brown (acting as Terris), we are looking at Carson Allen acting as Carson from the U.S.. Her character is a kind of a boomer who likes to eat. She has a hot temperament but she gives good advice to her friends.
If you are a K-Drama viewer, you have most likely seen the actress before. Here is a little introduction to the actress.
Carson Allen (Carson Christene Allen) is from the U.S. and was born on March 18, 1995 (her age is mentioned by her agency but note that some source states 1994). She moved to Korea at the age of 14 (Korean age in 2007) because her father is a soldier. She attended the Seoul American Middle High School.
Her family moved back to the U.S. in 2013 but she couldn't adapt to the American life after living overseas for so long. She decided to come back to Korea alone after attending one semester in an American university. She is now attending the department of political science and international studies at Yonsei University.
She is active as a model and actress in Korea. She has acted in numerous dramas with guest roles since 2015. Among her numerous roles, we are going to look at some of her characters you most likely have encountered.
In "The K2" (2016) starring top actor Ji ChangWook and Yoona she acted as Rania -an interpret- loved by Ji ChangWook. She was his ex-girlfriend who was tragically murdered. They even had a kiss scene.
In "When The Camellia Blooms" (2019), she was acting Helena working at the restaurant of Kang HaNeul's mother who pretends not to speak Korean.
Carson Allen is active in movies and TV shows as well. She had the lead role, Marya, in the short movie "Matriochka" (2018) where she acts as a Russian hostess.
Carson Allen appeared in music videos that include: HyunA 'How's this?', B.A.P 'WAKE ME UP', and Zico 'ANTI' (Feat. G.Soul).
The actress was part of the drama club in middle school and started to attend an acting academy in 2016.
When asked what role she would like to take on, she answered that she would like to take on the female lead in a romantic comedy. Because she is a fan of romantic comedy since middle school.
You can watch her interview below with English subtitles. She mentioned Seo KangJoon as the actor she wants to work with.
Here is another TMI about the actress, her MBTI is INFJ.
You can follow her on his Instagram here @carsonallen.
View this post on Instagram
We can look forward to her future career in Korea. Did she also catch your attention?