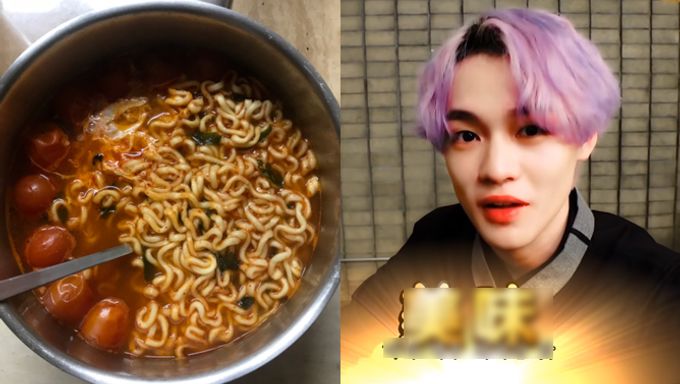 Did you catch the recent V-Live by NCT DREAM? During that particular V-Live, member ChenLe shared his particular way of making his own special ramyeon (instant noodles) recipe.
You can watch it below if you have yet to catch it.
The moment happened around 43:45 where he explained how to make it.
Ever since his explanation of the special recipe, many fans have actually tried out using the steps which he had provided. They had also posted the finished results on their social media accounts as well as online communities.
If you are curious how to make ChenLe's ramyeon here are the steps to do so!
First, you have to prepare some tomatoes (small size), spicy soup base for Sichuan Hotpot and a packet of instant noodle of your choice.
Next, set aside a pot of water to boil.
After which, slice the tomatoes into half or any size you prefer before adding them into the pot.
Take one spoonful of spicy soup base for Sichuan Hotpot and add it into the pot.
Stir and allow it to cook.
Add the instant noodle and the seasoning packets into the pot next.
Voila! Enjoy your ChenLe's special ramyeon!
If you prefer some variations, some fans also shared that they add an egg or other vegetables into the pot. They also mentioned that it is actually not that hard to make.
What do you think? Will you also be trying out this recipe soon?
Read More : The Reason Why "Produce X 101" Group Who Covered NCT U 'Boss' Is Called Yellow Pink