As a bullet that tells the runner that the race has been started, Wanna One, the top 11 boys from "Produce 101 SE2", is having their first showcase + concert.
Usually, idols debut or comeback with a showcase. Wanna One, no longer can let fans wait, decided to have a showcase and a concert to mark their debut. "Produce 101" was a viral and most highlighted TV program to all children, teens and adults. Even for the short period between the end of the program and their debut, there has been a lot of issues and attention pouring. 
Their influence and their power over their fans were again proven. Though the group's schedule is to have a showcase first then the concert at 8:00 p.m, the fans have been lining up from the very early morning to buy goods of Wanna One.  
When I say LINING UP, I meant by this much people...
The stadium inside is pretty large. However, the line just continues outside on and on and there are safety issues being concerned. It's currently 34 degrees outside and fans are just standing in the heat, happy to be seeing Wanna One in real. 
Must Read : Wanna One's Crazy Looks On Way To "Happy Together" Snatch Fans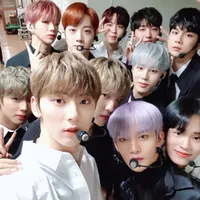 Became a fan of Wanna One
You can now view more their stories