Some of foreign fans complained about CHANEL choosing G-Dragon as a model.
After a luxury brand CHANEL released advertisements where G-Dragons appeared, some foreign netizens reacted in racist attitudes. On 27th of June, CHANEL released a CF of a new bag which filmed G-Dragon as an advertisement endorser. This ads was filmed based on G-Dragon's concert in Macau. However, after a release, some foreign netizens pointed out that a model of CHANEL, which is a luxury brand, was selected to be an Asian guy. They said, "After an Asian appeared in ads, original images of CHANEL before were gone.", and also, "Vive la France!". In succession, they animadverted saying, "Due to him, the bag look bad and shabby.", "It's NOT like CHANEL at all", and "If Coco Chanel saw this ads, she would hate it."
Nevertheless, most of fans stand against them, pointing out it's racism. Most fans are arguing that "Asian's appearance make CHANEL looks fresh.", "G-Dragon got enough invitations from Karl Lagerfeld, a fashion designer of CHANEL, so he deserves it.", and "G-dragon is now at the center of K-Pop and one of the hottest figure around the world". Actually, the CHANEL advertisement of GD got thousands of comments and still arouse a controversy.
Must Read : Photo )) ELLE x G-Dragon: I am Kwon JiYong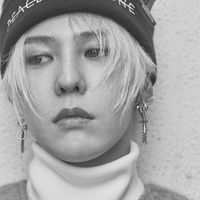 Became a fan of G-Dragon
You can now view more their stories