Korean singer/actor Alexander "Xander" former member of UKISS and SNS influencer Oh YoungJoo will be joining hands to co-host Frenzy Friends, a brand new radio show.
The program will be launched on Feb. 25(Monday) in time for the spring season on tbs eFM, a 24-hour foreign language radio channel stationed in Seoul, Korea. (101.3 Mhz).
Airing every night, from midnight to 2 am, Frenzy Friends will explore the latest trends that are throwing everyone here in Korea into a frenzy. The beautiful and intelligent co-hosts, Alexander and YoungJoo, will talk about fashion, beauty, health, travel, the latest gadgets, movies, books, news and more.
Alexander is an all-rounded entertainer, who first made his musical debut as a member of Korean boyband UKISS. He has many fans not only in Korea, but all across Asia, for his many acting roles in the Philippines, Malaysia, and Singapore.
And YoungJoo is a popular celebrity who won the hearts of many viewers with her delightful personality when she appeared in the second season of Heart Signal - a reality TV dating show which achieved high ratings last year.
This is the first time Alexander and YoungJoo will be hosting a radio show together. The trendy and fancy co-hosts are excited about connecting with fans from all over the world on the airwave.
Tune in and find out what's the latest craze these days, and become a true "Insider" by exploring the entertaining and up-to-the-minute fads every night on Frenzy Friends!
Read More : BTOB Peniel To Host English K-Pop Radio Show, "Skool Of K-Pop" at tbs eFM Starting Feb. 25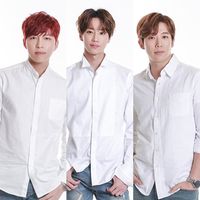 Became a fan of U-KISS
You can now view more their stories