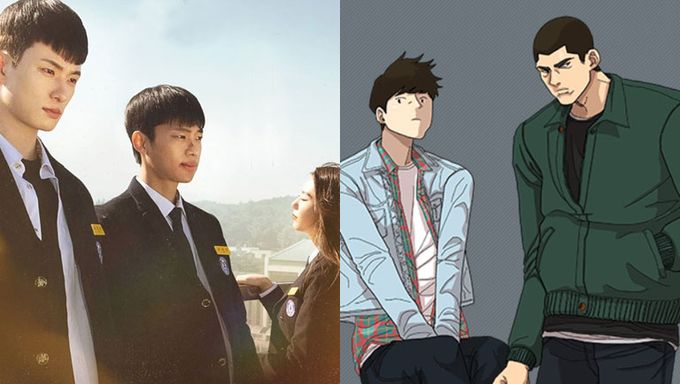 "How To Buy A Friend" also named "Friend Contract" is a school youth drama of 4 episodes.
The story is based on the webtoon of the same title by Kwon Laad. This drama adaptation is one more drama of 2020 to be adapted from webtoon.
The cast is composed of new rising actors. Lee ShinYoung gained fame with his supporting role in "Crash Landing On You" and earned his first lead role with this drama. Shin SeungHo previously acted in "A-Teen" (2018), "Love Alarm" (2019), "At Eighteen" (2019). He has been recognized for his good acting.
Former I.O.I's Kim SoHye is the female lead character. She started to build her acting career with dramas and web dramas including "Best Chicken" (2019).
The PD is Yoo YoungEun who worked on "Queen of Mystery" (2017) and "Just Dance" (2018).
Here is more information.
How To Buy A Friend (2020)
Information
Title: How To Buy A Friend/Friend Contract/Friendship Contract/Gyeyagujeong/계약우정
Director: Yoo YoungEun
Writer: Kim JooMan based on webtoon by Kwon Laad
Network: KBS
Runtime: From April 6
# of Episodes: 4
Language: Korean
Summary
It tells the story of ChanHong an ordinary high school student and DonHyuk called 'legendary fist' who got to have a friend contract accidentally because of a poem ChanHong wrote.
Cast
Lee ShinYoung as Park ChanHong
Park ChanHong is just an average high school boy. His height, weight, and grades are all average. There is nothing he is really good at.
His nickname is "Ninja" because it is hard to tell where he is. Since he has no presence, he did not catch the attention until now from predators.
However, everything changed for him as he starts to write poems by unexpected events. He started his first love with SeYoon, started to be bullied and formed a friend contract with DonHyuk.
Shin SeungHo as Heo DonHyuk
His nickname is "Iron Man". His fist is a legend among high school students. People do not know why he fought 1 against 10 and send them all to the hospital. They say he is cruel.
A year ago, his girlfriend took her life. He felt guilty to not have trusted her and went to juvenile center after fighting with people who mocked her death.
After being released for juvenile center, he entered Jeil High School to investigate her death. He got to see a clue about the incident in ChanHong's poem.
Former I.O.I's Kim SoHye as Eom SeYoon
She has been the most beautiful girl since kindergarten to high school. She is also the first in class. She is the perfect girl. All the boys at school love her but they can't confess.
Her dream is to do arts. She hesitates because she is scared of being scolded by her parents. The one that brings her more into arts is ChanHong.
Teaser & Posters
Here is the teaser.
Here are the official posters.
Here are the released pictures.
About the Webtoon
The webtoon "Friend Contract" received good reviews for its fresh development and the consciousness of the deep and dark subject.
It depicts the dark sides of love and society during the fresh adolescence period from the perspective of two high school students Park ChanHong and Heo DonHyuk.
You can read it in Korean here, it is not available officially in English.