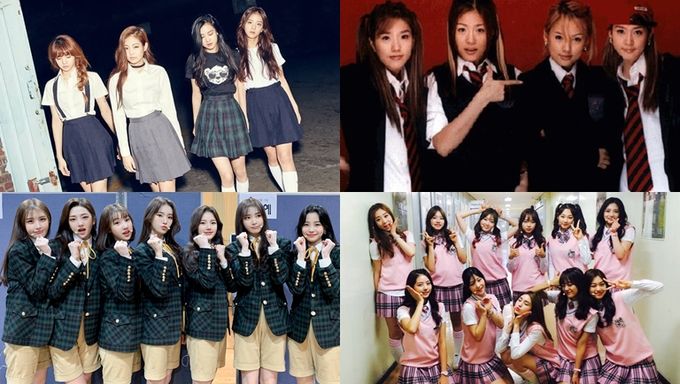 School uniform is always a popular outfit for K-Pop female idols and it is almost as if all of them have worn it at least once either for their concept, stage performance or even for a magazine photoshoot.
With that being said, Kpopmap compiled the photos of K-Pop female idol groups wearing school uniform since the 1st generation of K-Pop. It is interesting to see how the outfits had transformed throughout the ages and share with us your comment about it below!
Note: Year of debut is written down
1998 - Fin.K.L
One of the earliest K-Pop girl groups is none other than Fin.K.L and they had also worn school uniforms! All of them were seen wearing a black and red stripe tie with similar outfits.
2002 - S.E.S
Long plaid pants and jackets used to be the kind of uniform trend that was fashionable back in the days. S.E.S had definitely caused a sensation with their styling as well as hair style.
2007 - Wonder Girls
The uniforms which Wonder Girls wore were not exactly the ones you would see back in 2000s as they had reformed it in various ways. Some members were seen with skirts while some were seen in pants too.
2007 - Girls' Generation
When Girls Generation became the sensational K-Pop girl group, they were seen in school uniform too. Many could notice how bright and colourful the school uniforms were back then!
2007 - KARA
KARA is not only popular in Korea but also in Japan! Many of their fans love it when they noticed how seen wearing school uniform outfits for a ramyeon commercial.
2009 - T-ARA
T-ARA had put on school uniforms that were worn back in the 80s! Having pig tails as well as a long skirts used to be the trend back then.
2009 - f(x)
F(X) was also a hot sensational group when they debuted as each of the members are talented and filled with charisma.
2009 - 2NE1
Another girl group which is legendary even up till now is none other than 2NE1. They have their own swag and style and no one is capable of replacing them.
2009 - Afterschool
Well, you definitely can't miss out school uniform from After School! They also had a variety of styling and accessories when they were seen wearing them.
2011 - Apink
Apink members are dressed in matching school uniform with a jacket and variations in their accessories. They were also seen wearing knee high socks!
2012 - AOA
When AOA was still active as 7, they were also noticed for how well they look in school uniforms.
2014 - Red Velvet
Red Velvet looks adorable and youthful when they were promoting 'Icecream Cake'! Their outfits are school uniform inspired and fans also love the pastel colours.
2014 - Lovelyz
When Lovelyz first debuted, they had a school uniform look and many are in love with it! They were seen wearing the same outfit with different hair styles.
2015 - OH MY GIRL
OH MY GIRL looked really adorable when they debuted not long ago. With blue and white coordinated school uniforms, they gave off a youthful vibe too.
2015 - TWICE
The outfits worn by TWICE is also not exactly the typical school uniform that you would see but each of their outfits are unique and cute at the same time. Some members were seen in an one piece uniform whereas others had skirts and jackets.
2015 - CLC
CLC originally debuted as a 5-member group and back then, they were chosen as models for school uniforms! Each of them looked really adorable with the variations and style of school uniform.
2015 - GFriend
Who doesn't love the time when GFriend promoted their songs in lovely pinafore uniform outfits! It gave them a youthful and adorable vibe.
2016 - WJSN
WJSN is a group which had performed with a variety of school uniforms! From sailor inspired school uniforms to even plaid pattern uniforms, there is nothing the girls did not wear before.
2016 - I.O.I
The most memorable school uniform outfits in K-Pop would probably be the time when Mnet "Produce 101" Season 1 was aired. Who else could forget about the time when I.O.I members performed in their grey and pink school uniform!
2016- BLACKPINK
Many love how BLACKPINK members were dressed in school uniform which drew inspiration from boarding schools. Plaid skirts then became a huge trend in the daily fashions of Koreans.
2017 - DREAMCATCHER
The uniform look for DREAMCATCHER had a slight twist as the girls were also seen tweeking the outfit with suspenders and even harnesses!
2017 - fromis_9
fromis_9 looks really innocent and lovely with ivory toned school uniforms! Many commented on how they looked so young and approachable with the styling given to them.
2018 - (G)I-DLE
Plaid pattern and tennis skirts trended in Korean fashion and (G)I-DLE girls were seen in them for their school uniform outfits too. All of them looked cute and chic in the well-coordinated outfits.
2018 - LOONA
Some would say that LOONA debuted in 2016 and while that is not technically wrong, all the girls debuted as a whole in 2018. They all looked amazing in various kind of school uniforms!
2018 - IZ*ONE
Who could forget about IZ*ONE? They are the girls from the Mnet "Produce 48" and looked adorable in their pink and white school uniforms.
2019 - ITZY
School uniform outfits are a rite of passage and the girls of ITZY also did not miss out on them! Many have praised their stylists for the lovely and well-coordinated outfits. From beret, ties to hair band, the girls looked amazing in them.
2020 - Weeekly
The freshly debuted rookie group is definitely starting a new school uniform trend as they were seen wearing school uniforms that have plaid pattern, jacket and also knee length pants.