On August  26th~27th, FT Island had their 10th-anniversary concert, "2017 FTISLAND LIVE [X] IN SEOUL" (a.k.a X).
Among so many anniversaries to celebrate, 10th-Anniversary contains just a lot of meanings, moments, feelings and time in one celebration. 10th anniversary in one's career is a huge deal, especially if one is working in a fast changing field like entertainment. 
Not a lot of singers, especially idols, don't really get to survive for 10 years for diverse reasons. Those who have made it to the day should be congratulated of for their huge effort and time focused on their work and their work only. 
F.T. Island showed such wide spectrum of music in their concert, starting from their latest title song, 'Wind' from the album "OVER 10 YEARS". They sang songs that have made them who they are today such as 'Don't Know Men', 'Love Sick', 'Love Love Love' and 'Heaven' along with fans. It was the time for both fans and the group to look back on their 10 years of hard work. Those legendary songs have been favored by not only fans but also the public and still is sang a lot in Karaoke. 
The group also shared their overwhelming emotions with fans and talked about how thankful they feel to their fans. "We will be the best, the number one band in Korea." No more words were needed. Just simple, yet honest feelings of gratitude and love were shared in words. No big words were needed because everything was said in their music that day. 
Fans cheered through out the whole 150 minutes of the concert shaking placards that read, "We are always together." 
Starting from the concert held in Korea, F.T. Island will be having a world tour, Russia on October 20th, Hungary on 24th, Poland on 26th, France on 27th and Turkey on 29th. 
Must Read : TaeYang 2017 World Tour "White Night" – US & CANADA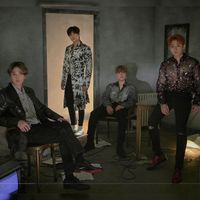 Became a fan of F.T. Island
You can now view more their stories