An online post regarding the most popular K-Pop idol among gay Korean men has recently surfaced online.
You might be wondering who it is since there's so many great looking male K-Pop idols in the scene. We'll give you a hint. He's a member of one of the most influential K-Pop groups ever to exist in history. His group has broken record after record and has done no other K-Pop idol groups have ever done before.
If you guessed BTS, you're most certainly correct. So which one of the seven members is popular among gay Korean men at the moment?
None other than Jin!
While most people expected it would have been either V or JungKook who would have been popular among gay men, Jin, who never received any gifts during his days back in an all boys school, ended up becoming the most admired member.
Read More : IZ*ONE vs. CLC, Fans Talk About Song That Was Originally Intended For Latter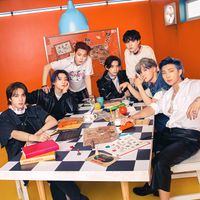 Became a fan of BTS
You can now view more their stories