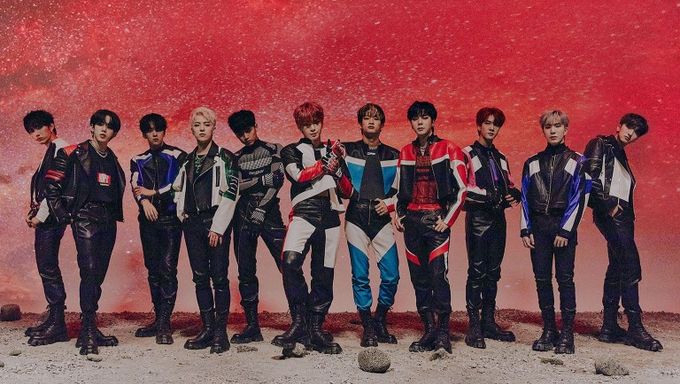 The 4th generation K-Pop supergroup on everyone's musical radar, OMEGA X, is gearing up for a comeback, only months after their debut! Fans and critics alike, hailed OMEGA X as a power player in the K-Pop scene soon after they broke into it with "VAMOS", raising expectations and curiosity for how they were going to shape their discography in the future, especially since their first impression itself was brimming with intensity.
OMEGA X did not play safe, which ultimately gave birth to the unique OX sound we know today. Having a signature so early on in their career, OMEGA X is teetering on the precipice of iconic success. Their upcoming single album "WHAT'S GOIN' ON" is slated for release on September 6, 2021.
What sets OMEGA X apart is the fact that the group has no officially assigned positions for the members. All the members are leaders in their own right and are constantly evolving in terms of their art. As such, it is a given that they're all complete all-rounders, with each member fulfilling vocalist, rapper, dancer and visual roles individually. This is exactly what makes them such a strong, unbeatable group.
Here are what we believe are the key artistic strengths of each OMEGA X member!
JaeHan is a former member of the boy group SPECTRUM. JaeHan has an equally powerful lower and higher register which allows him to explore and challenge his range while also making sure that he doesn't falter.
HwiChan has an extremely stable voice, both in the studio as well as on stage. With the intense choreography the members have to perform, stable vocals are a godsent blessing for the group that sets them apart.
SeBin is not only an amazing performer but also an equally capable and talented songwriter! He wrote the song 'Younger' which is perhaps the most personal song from their debut album. The sentimental import of the song speaks volumes about SeBin's potential as a lyricist.
What makes HanGyeom special is how he's so incredibly expressive that it adds a whole other dimension to his performances. HanGyeom knows how to bewitch an audience, whether that be with his voice or his moves.
TaeDong flows smooth like butter. He also has a penchant for freestyling and choreographing which is an amazing asset. Is there anything he cannot do perfectly?
Xen's rap flow is easily one of the most unique in K-Pop. His technique is flawless, which allows him to play around with different styles. Needless to say, he's a top notch vocalist too!
JeHyun's voice has a hypnotizing quality to it that is hard to miss. Not only does it make him stand out but it also gives OMEGA X's music the perfect amount of edge.
Kevin's vocal quality gives off the vibe of a seasoned artist. He can express any mood or concept with equal potency, which is a feat in and of itself.
JungHoon's voice booms with power while also having the capacity to soften down when he needs to. Such vocal control is definitely worth high praise.
Hyuk's deep voice has made fans' hearts flutter ever since his debut and the way it translates to his vocals is simply enchanting. We can't wait for him to show us more of his charms.
YeChan is an energetic powerhouse and his duality is out of this world. Moreover, his vocals are perfectly versatile. It is just as suited to the intensity of 'Vamos' as it is to the brightness of 'Younger', songs which are most definitely on two sides of the genre spectrum, proving his talent.
Watch the latest teaser for OMEGA X's first single album "WHAT'S GOIN' ON" below!
Are you excited for OMEGA X's comeback? Share your thoughts with Kpopmap in the comments section down below!