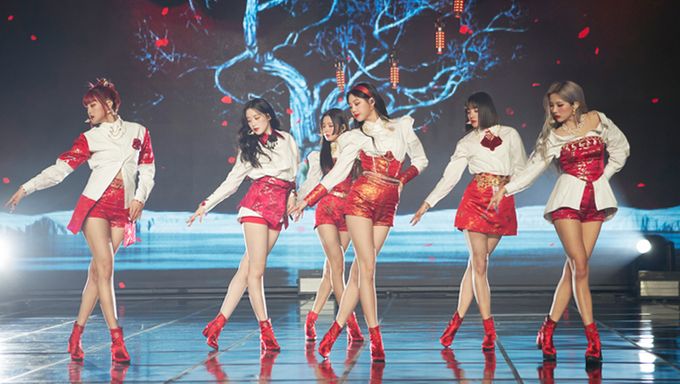 After turning the heat up in 2020 with their incredible performances for 'Oh my god' and 'DUMBDi DUMBDi', the girls of (G)I-DLEare ready to welcome the new year with their 4th mini album "I burn" and title track 'Hwaa'.
On Jan. 11, Kpopmap was invited to attend their online press showcase and we are also grateful to be attending our very first media showcase of 2021 too.
For the past days, music video teasers and concept photos were dropped and fans could only gasp. (G)I-DLE has the ability to raise the standard for every comeback and it is no doubt that they are once again going to hit it big with 'Hwaa'.
The press showcase opened with a opening teaser and we were welcomed by the MC Oh JeongYeon. The girls appeared in their own unique red and white outfits greeted those watching the live streaming with a news year greeting.
They shared how even on the last day of 2020, they had spent time together by practicing for the release of their album. Minnie shared that as they were all together at the same time, they did not feel lonely.
Before they dove into their new album, each of the members also updated on what they are currently busy with. Members MiYeon and Minnie had began their first attempt in acting through web drama "Replay: The Moment" and sitcom "So Not Worth it" respectively.
As for Yuqi, she had appeared in various variety shows and hoped to be able to appear in even more in 2021. Maknae ShuHua also shared that she would like to appear on a cooking show together with the rest of the members.
Adding on, main dancer, SooJin had impressed K-Pop fans recently with a dance video of her through "Studio Choom". Finally for SoYeon, she mentioned that in the year of 2021, she hopes to make different kind of musics which the group has yet to explore.
Continuing SoYeon also shared with the reporters what is their latest mini album about. Starting with the idea that 'parting is not over until it is completely forgotten', "I burn" is an album that contains various emotions felt in the process of getting back happiness after parting.
The album consists of a total of 6 tracks- 'Hann (Winter)', 'Hwaa', 'MOON', 'Where is love', 'LOST' and 'Dahlia'.
Among them, member Minnie had composed 'MOON' and 'Dahlia' while Yuqi had composed to 'LOST'. For long time fans of (G)I-DLE, you would know that SoYeon has all along participating in the production of their songs either through composing or lyrics writing. Hence, it is also amazing to see how other members are also contributing too.
Their title track 'Hwaa' is a metaphor for both fire as well as flower. They mentioned that the track talks about how they want to end a relationship completely by burning the remains of it, even if the most minute feelings they have left and hence 'fire'. After removing completely those feelings, they hope that a new relationship will begin and bloom like a flower in spring and hence the word, 'flower'.
SooJin had also shared the point dance for their choreography of 'Hwaa', causing the MC to gasp in amaze. She was clearly impressed and could not wait for the release of their mini album too.
Later, the girls exited the stage for a moment before they returned with a stunning and jaw dropping stage premiere of 'Hwaa'.
Their moves were powerful and their facial expressions were also on point.
After catching their breath and returning back on stage, the girls also shared some of the interesting episodes which they had during the filming of the music video. ShuHua recalled the part when SoYeon had to re-do the ending scene over and over. Later, SoYeon mentioned that it was only because of how the rest of the members were being mischievous by the side.
Minnie also talked about a part where she had to act as if she was really cold.
Finally, we reached to the section where reporters had sent in their questions beforehand.
One asked about what fans and viewers should focus on for their 'Hwaa' stage and SooJin replied by asking many to take a look at their beautiful dance lines. Indeed, the choreography of 'Hwaa' made use a lot of hands and angular movements!
Another question was directed to Minnie and Yuqi as they had participated in composing and even lyrics writing for the album. They were asked if it was difficult and how do they overcome the language.
For 'Dahlia', Minnie talked about how she had studied flowers and let SoYeon took over the lyrics writing. She was absolutely satisfied with how well SoYeon had written it and felt such a relief that she has SoYeon as a member.
As for Yuqi, she talked about how she was able to write the song together with Minnie previously for 'i'M THE TREND' but this time she was alone! Despite that being said, she was humble and talked about being a rookie song writer. Yuqi is already grateful for the fact that her song is part of this album and promised to work even harder in the future.
Talking about their expectations for this album, SoYeon mentioned about charting 1st on music charts. Since all of the members had worked really hard on the album, it would be nice to see their hard work paid off.
Finally, they concluded the session by mentioning that they know there are many international fans out there across the world who miss them so much. As soon as the pandemic is over, they hope to hold a concert or even go on a world tour which they had originally planned back in 2020 but was cancelled. Before that, they wished that everyone would stay safe and will continue to use various methods to communicate with fans.
With this spectacular comeback and amazing music, it is no doubt that (G)I-DLE will continue to be a K-Pop group which will lead the trend in many various aspects.
Make sure to check out their music video below!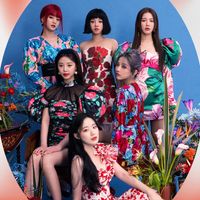 Became a fan of (G)I-DLE
You can now view more their stories