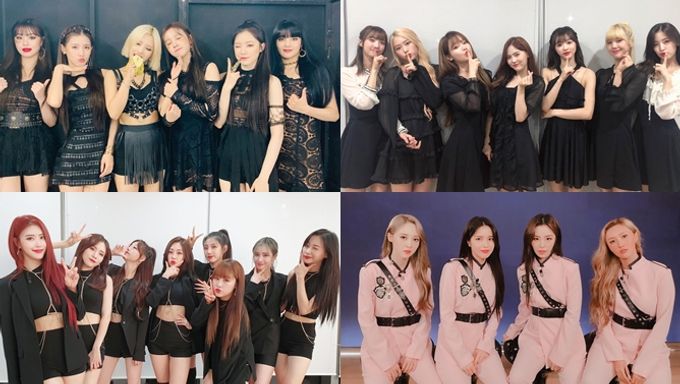 Are you keeping up with the survival programs by Mnet?
On the most recent episode of Mnet "Queendom" where 6 K-Pop girl groups compete with one another, to receive the wining title. If you did not already know, groups like AOA, MAMAMOO, Lovelyz, OH MY GIRL, (G)I-DLE, and Park Bom are the participants.
The competition between these groups began with them performing their hit tracks with a twist for the past 2 episodes.
Viewers knew that they are going to have a hard time voting for their favorites as the groups will be performing to songs that are legendary.
Comparing to the other participants, (G)I-DLE is known to be the 'maknae' as they had only debuted back in 2018.
Despite that being said, they managed to impress the audience with their remix of debut title track 'LATATA'. If you are curious to see the performance, you can do so below!
Member Minnie began the stage with her speaking Thai and gave chills to many! Some felt that it was eerie but at the same time found it an interesting way to open the performance with such idea.
Compared to their usual lovely and girly concept, Lovelyz also took the stage with a new version of their hit track 'Ah-Choo'.
The girls were dressed in black and styled with golden body accessories that allowed them to show off their sexy sides too.
OH MY GIRL also did not disappoint with their mystical performance for 'Secret Garden'!
They began their performance with red ribbons and together with how the falling petals also added to their mystical concept, viewers could not help but be wowed by their spectacular opening.
It would be hard to deny that the term 'mature sexy' is perfect to describe AOA.
Despite only having 5 members remaining in the group, they did not fail to bring what they have on stage with their sexy version of 'Mini Skirt'.
Halfway through, the girls took the audience by surprise when they added a dance break using chairs as props. ChanMi also caused many to jaw drop with her solo dance break too.
In the very first episode, MAMAMOO proved that they are indeed a group made up with vocal queens through their remix version of 'Decalcomanie'.
Viewers had also thought that it was one of the best performances seeing how they did not forget to have fun on stage despite this being a competition with other groups.
Last but not least, we cannot forget about Park Bom who had taken the stage by herself with a new version of 'You And I'.
Many would know her as a singer with unique voice and those who had seen the stage also talked about how they had missed seeing her performing on stage. Together with a group of backup singers, Park Bom had caused many to have chills.
With the first round of competition completed, these 6 groups will move on to the next stage in the next episode. They will be covering each other's hit track and many are curious to find out how each groups will be performing the other's songs.
Share with us below which stage for the first competition was your favorite!
Which is your favorite first stage for "Queendom"?
※You can vote multiple times without sign in.
OH MY GIRL 'Secret Garden'
Read More : Most Anticipated K-Pop Girl Group On "Queendom" Based On Kpopmap Readers' Voting