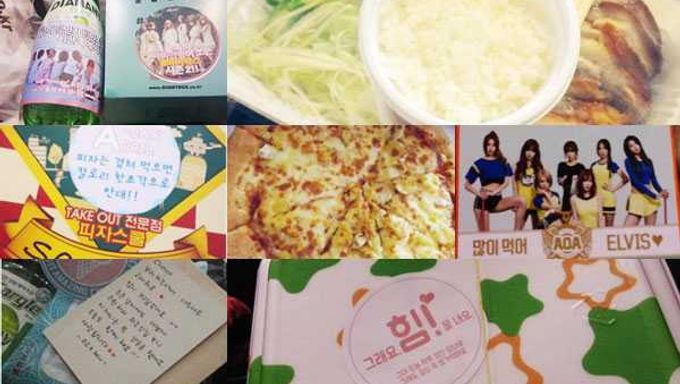 Can you imagine how tasty the lunch treated by your bias?
It is hot these days about the MBC's hit show, 'Idol Star Athletics Championships 2016'. All the attentions of K-pop fans are crowded on the sports event. For this year, it is quiet expected how the rookies of 2015 will show remarkable achievement with their fresh passion on TV. It was recorded on 18 Jan, and about 8000 fans watched their bias's games. The fortunate fans got another luck there which was the lunch boxes prepared by their loving stars. Each idol groups picked different menus from one another and the lunch boxes were captured by fans who really appreciated for the idols' angel hearts.
Must Read : [ISAC] Spoilers Who Were The Winners At 2016 ISAC
Kpopmap has compiled the idol girls' lunch boxes for their fans at ISAC 2016. So expecting how delicious those would look. Hopefully, the photos can comfort your appetite, which, indeed, always longs for your bias's treat.
Ordinary but full of love
Red Velvet
Korean meal filled with high nutrient side dishes inside with a hand drawing looks like a real instant photo of red velvet members. A short message to thank was not missed.
Hello Venus
nutritious Korean meal with a message written on the instant photos of members
SONAMOO
tasty Chicken burger with the members' hand written letters.
Fry Lovers
Lovelyz & Apink
Tasty pork cutlet lunch boxes were prepared. The two idol girl groups' choice of menu was the same. The nutritious pork cutlet lunch meal gave energy to fans to cheer for their bias.
Lovelyz
Apink
For Young Targets
GFriend
GFriend's choice of lunch menu fascinated the young fans. For the young taste, the lunch box from famous family restaurant, Outback Steak House, was ordered and fried chicken was also given as a snack. Fans got almost stunned about their loving girls' amazing gift. Eunha handing out chicken boxes looks so happy.
April
The adorable girls made a right decision for the young targets. April prepared pizzas and hamburgers for fans. There is nothing tastier than hamburger or pizza for teenage students.
Special Full Package
Oh My Girl
Special Package type. OMG prepared a gift package for their fans to show their appreciation for fans to come to the stadium of ISAC. Hamburger lunch or Asian style lunch box were prepared with chewable vitamin C, members' hand written letters and autographs.
 AOA
Korean tempura style lunch meal with vitamin C and sweet snacks including chocolates were prepared. The photo of AOA member, Chanmi, handing out the lunch boxes to fans is funny.
TWICE
The 2015's hit rookie's gift was a hit as well. TWICE prepared Korean traditional food, Jokbal, pig's feet stew and sweet fried chicken, with a bunch of snacks, vegetable juice, pop. Like their title, the scale of the meal was twice than others.
DIA
Korean menu, mineral water, and snacks with juice pack were given. For clean lunch time, the pack of wet towel was not missed. DIA members also prepared their hand written letter to express their thank to fans.