"From debut until now, 'DECOHERENCE' marks the end of an era, the end to the trilogy that started in 'Bomb,' and I'm so grateful to all who have been by my side since the beginning. I will work harder to bring you even cooler projects in the future, so please look forward to the next chapter of the AleXa Universe." AleXa
Hailed as one of K-pop's most exciting breakout acts, global rookie AleXa made a long-awaited comeback today with "REVOLUTION," a multi-genre power anthem consisting of Hip Hop, Latin and Symphonic moments to highlight the final showdown between AleXa and ZB Corp.
"REVOLUTION" is the title track off AleXa's second extended play DECOHERENCE, and will see the finale to AleXa's three-part ground-breaking music video concept. The AI leading a rebellion storyline (detailed in "Allegory of the Cave," a hidden track on the physical copy of the new EP) began in "Bomb," was followed by "Do Or Die" and concludes with "REVOLUTION."
In the music video, AleXa finds herself in the middle of an epic battle with evil masterminds ZB Corp. Suspended in a dark liquid tank with sensors attached to her neck and arms, AleXa's body is numb but her mind is conscious, processing all her past memories of her previous simulations. Suddenly, she awakens and breaks through to the surface. AleXa will do more than escape--she will lead an uprising.
"We created the music video with the idea of bringing the exciting and dynamic visuals to life, giving the final chapter of AleXa's origin storyline the grand finale it deserves," says Angelina Foss, Head of ZB Label, "Having AleXa always be so open for new challenges was the key that made this entire project possible. Our team worked very hard, but most importantly, we all had so much fun in the process of creating 'REVOLUTION.'"
On the DECOHERENCE EP, AleXa joined forces with world-famous composers who have created chart-topping songs for acts such as BTS and Red Velvet and producer Hwang Sungjin of RBW, label of MAMAMOO and Oneus, who has contributed lyrics to continue to evolve her sound and grow her artistry. Celebrations for the EP release are kicked off in collaboration with Twitter, who once again joined forces with AleXa to bring a virtual live showcase for fans watching from home. The virtual hangout will include the worldwide debut performance of "Revolution."
AleXa exploded onto the scene with her multilingual debut, "Bomb," in October of last year, breaking into the Top 10 of Billboard's "World Digital Song Sales Chart" within its first week of release. In 2020, AleXa inked a deal with ICM Partners, home to an all-star roster of award-winning artists including Nicki Minaj and Khalid, to set a global debut in motion, and was crowned the winner in the "New K-Wave Next Artist" category of this year's "Soribada Best K-Music Awards," one of the biggest award shows of the season.
AleXa's DECOHERENCE EP is available now on Spotify, Apple Music, Melon, Genie, and more than 100 music platforms around the world. The full track list of the EP can be found below:
TRACK 01: VILLAIN
"Villain" combines urban, trap and EDM elements to create a unique, dynamic sound that shines a spotlight on AleXa's overflowing energy and powerful performance.
TRACK 02: BURN OUT
With its straightforward lyrics and addictive hook "Burn Out" is a song about love that highlights AleXa's powerful vocals.
TRACK 03: REVOLUTION (Title Track)
Produced by K-pop hitmakers LDN Noise, "Revolution" features hip hop, Latin and symphonic elements and allows AleXa to show the unrivaled power of her performance. She also took part in writing the lyrics to satisfy her fans' expectations. "Revolution" was created by a world-famous team of composers, who have written billboard charts sweeping songs for artists such as BTS and Red Velvet. Here they have come together to create a song tailored to AleXa.
TRACK 04: MOON AND BACK
AleXa personally took part in writing the lyrics for "Moon and Back," a song dedicated to her fans who have shown her unchanging love. The song was created using AleXa's way of saying goodbye to her fans, 'love to the moon and back.'
TRACK 05: REVOLUTION (ENGLISH VER)
The English version of the title track of AleXa's DECOHERENCE impresses with its powerful lyrics and is a gift to her international fans.
TRACK 06: REVOLUTION (Inst.)
TRACK 07: VILLAIN (Inst.)
TRACK 08: "ALLEGORY OF THE CAVE (Hidden Track)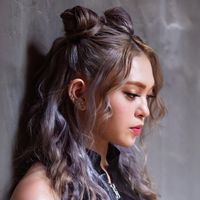 Became a fan of AleXa
You can now view more their stories