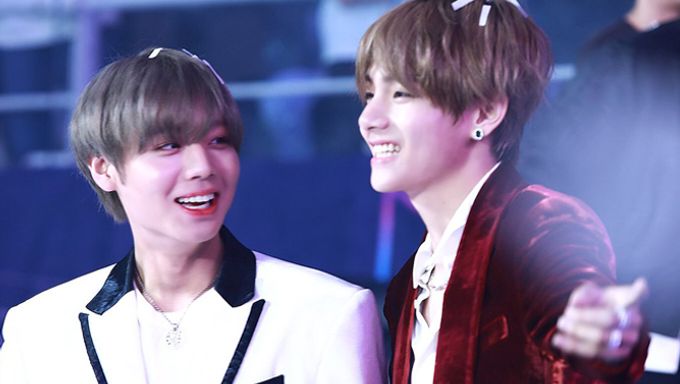 2018 has been a really exciting year for many idols as well as fans! Many friendships made between idols from different companies and groups had also gained attention from K-Pop fans.
One reason for that is because of the adorable interactions and also their undeniably good looking visuals. As such, Kpopmap had chose 4 pairs of idols that had stole the hearts of many fans.
Let's find out who they are!
#1 Wanna One's Park JiHoon and BTS's V
If you have been following Park JiHoon since his appearance on Mnet "Produce 101" Season 2, you would know that he mentioned BTS's V as his role model. It seemed like his dream had come true ever since he got to know him personally and was also invited to play online games together. Recently, they were also spotted together attending MGA 2018.
#2 SEVENTEEN's MinGyu and ASTRO's Cha EunWoo
This two boys are definitely causing many K-Pop fans to fall harder for them because of their absolute gorgeous physique and appearance. They are well-known by fans for their close friendship and Cha EunWoo's addition to the 97-liner group chat was also thanks to MinGyu. Even though it is highly unlikely that this situation will come but what if you were to choose between MinGyu and Cha EunWoo?
#3 BTOB's EunKwang and Highlight's DooJoon
Some fans would call EunKwang and DooJoon the perfect brothers as both of them just look so close with each other! In addition to how they used to be from the same company, they are also together in army. With that, they look even closer than before!
#4 Red Velvet's Irene and BLACKPINK's Jennie
What happens when you put a pretty girl next to another pretty girl? Visual explosions. Ever since their debut, Irene and Jennie are known to be the visuals of their group and they could not get even more perfect now that they were spotted by fans for being close. With their friendship, many fans are envious and hope to see even more future interactions from them.
Read More : Two Shots Of SEVENTEEN's MinGyu And ASTRO's Cha EunWoo Cause Fans To Go Crazy