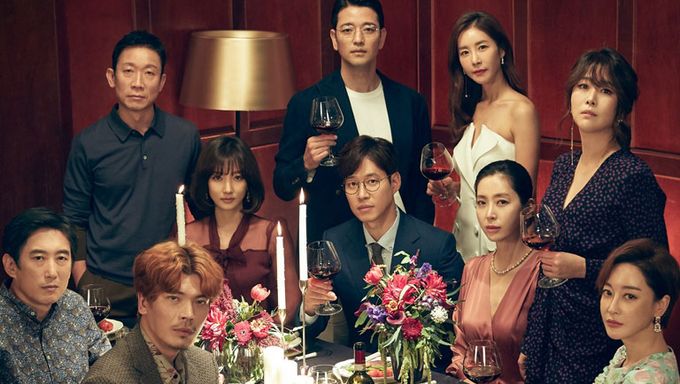 "Graceful Friends" is a drama that will interest the fans of "SKY Castle".
The drama is gathering the interest of viewers fan of crime and mystery dramas. "Graceful Friends" will be available on Netflix.
There are 10 lead actors among them Yoo JunSang ("Distorted", "Liver or Die"), Song YoonAh ("The K2", "Secret Mother"), and Bae SooBin ("49 Days", "A Pledge to God").
The director of this drama is Sung HyunWook who worked on "Beauty Inside", "Introverted Boss", "Marriage, Not Dating", "Another Miss Oh", etc.
Here is more information.
Graceful Friends (2020)
Information
Title: Graceful Friends / Elegant Friends / Uahan chingudeul / 우아한 친구들
Director: Song HyunWook, Park SoYeon
Writer: Park HyoYeon, Kim KyungSuk
Network: JTBC x Netflix
Runtime: From July 10
# of Episodes: 17
Genre: Mystery, Crime, Drama
Language: Korean
Summary
It is the mystery drama of friends and couples who have known each other for 20 years, whose peaceful day life was cracked by the sudden death of one of their friends.
Cast
Yoo JunSang as Ahn GoongChul
The director of the headquarters of High Five Chicken. Husband of Nam JungHae. 45-year-old.
Song YoonAh as Nam JungHae
A psychiatrist. Wife of Ahn GoongChul. 45-year-old.
Bae SooBin as Jung JaeHoon
He is single. Director of the Urology Department. 45-year-old.
Han EunJung as Baek HaeSook
She was Ahn GoongChul's past lover. She is managing a bar. She was the first love of Ahn GoongChul, Jung JaeHoon, Jo HyungWoo, Cheon ManShik and Park ChoonBok at the university. 45-year-old.
Kim SungOh as Jo HyungWoo
He is the director of adult movies. He is the husband of Kang KyungJa. 43-year-old.
Kim HyeEun as Kang KyungJa
She is the director of a luxury life bar. She is the wife of Jo HyungWoo. 50-year-old.
Jung SukYong as Park ChoonBok
He is an employee of an assurance company. He is the husband of Yoo EunSil. 47-year-old.
Lee InHye as Yoo EunSil
She is a housewife. She is the wife of Park ChoonBok. 35-year-old.
Kim WonHae as Cheon ManShik
He is a civil servant in the city hall. He is the husband of Ji MyungSook. 45-year-old.
Kim JiYoung as Ji MyungSook
She is a housewife. She is the wife of Cheon ManShik. 45-year-old.
Interesting Facts
Here is one of the teasers.
Here are the official posters.
Here is the character chart.
Read More : Netizens Are In Love With The Crazy Chemistry Of Kim SooHyun & Seo YeJi In "It's Okay To Not Be Okay"