The world can really be an ugly place sometimes, especially online. While it's bad enough that we have violence and hate manifesting through physical actions all over the world, we also have the same negativity being rampant through the internet as well.
Hate comments have recently been a big issue within the K-Pop industry. Even Yang HyunSuk of YG Entertainment recently addressed the issue and responded to fans who were demanding that he take legal action against the ones responsible for the hate comments thrown at YG artists.
Some netizens have argued that the Koreans and K-Pop fans are over-reacting since most celebrities all over the world have hate comments all the time but do not address them. While that might be partially true, people must fully come to a realization that hate comments are actually quite serious. Not only is it hurtful, it also has the potential to negatively affect an artist's career and motivation as well.
Girl group Gugudan unfortunately had to experience this firsthand recently during their V App live stream. After the girl group members introduced themselves through the live stream, their facial expressions suddenly darkened.
It turned out that hate comments were being posted just minutes after the live stream started. Some said "I'm only waiting for SeJeong's solo debut." "All of you b****es f*** off and let SeJeong debut on her own!".
The members did their best to ignore the comments but their expressions showed that it was difficult for them to do so.
What do you think is the best way for idols to deal with such situations? Feel free to share your thoughts.
Read More : K-Pop Girl Groups Among Victims Of Fake Pornography Leak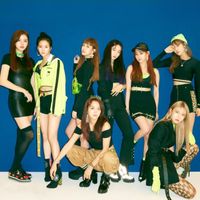 Became a fan of Gugudan
You can now view more their stories