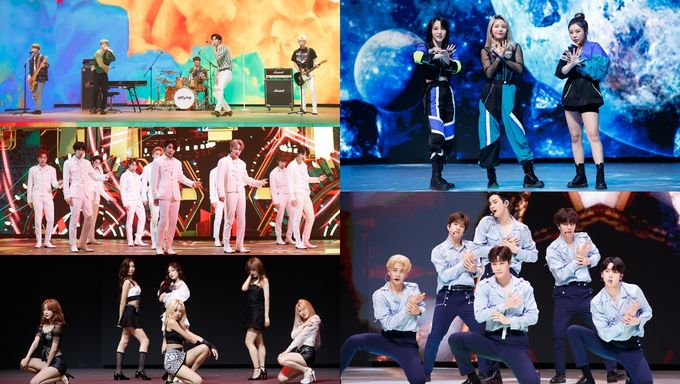 "KCON:TACT 2020 SUMMER" is the hottest K-Pop event all around the world at the moment. Are you enjoying the festival?
For those of you who unfortunately could not attend the Day 6 on June 25, we got you covered with a sum-up of stages performances and episodes! If you are curious to check out the lineup for the rest of the week, you can take a look here.
You can check previous days reviews (Day 1, Day 2, Day 3, Day 4, Day 5). On Day 6, the lineup was composed of ASTRO, Golden Child, MAMAMOO, NATURE, and N.Flying. The days was full of laugh and amazing stages. It was for sure a happy time for fans.
Opening Performance
ASTRO opened the show wearing navy pants and grey-blue shirts with chains. They had a captivating stage with the solar system surrounding them on the screen. The theme was 'dream' and they showed performance on this theme. The 6 stars gathered and created the dream.
DREAM
The theme of "KCON:TACT 2020 SUMMER" Day 6 was 'dream'. Among the talks, these two were touching.
ASTRO's MoonBin explained the power that helped him endure when he wanted to give up his dream. He explained that at that time, he was honest about it and said it. Cha EunWoo back then answered something he still remembers because it was touching. The fellow member told him that he would respect whichever decision he makes because there would be a reasonable reason for him to make it and that he wouldn't ask any further questions. MoonBin continued explaining that he felt a lot of responsibility about the team after that and members comforted him a lot.
N.Flying's JaeHyun said "Many people say dreams are dreams (which is why they don't come true). But achieving your dreams is not impossible. Find your dream and allow yourself to match that with what you think is ideal as much as possible".
Golden Child Stages
Golden Child was next to perform in an all-white outfit. They brought up smiles to the viewers with the brand new B-side track 'OMG' of their mini-album "Take A Leap". It was their first stage for that song.
All the members were excited and happy to meet Goldenness. They greeted fans while showing each of them some skills.
Next on, they showed off their synchronized dancing on 'Wannabe' and 'Without You'.
Golden Child moved to the "Let's Play with KCON-er" section. Fans had to answer questions and match with the answers of the members. The first question was "who would you date among the members if you were a girl". Y was chosen by fans but members chose DaeYeol because he is a strong leader.
The second question was "who is the member who is the most different on and off stage?". Fans answered TAG but members chose JangJun because he is a rapper so off stage his image is brighter and more active.
The last question was "who do you want to be reborn as in your next life?" Fans and members selected JooChan because they want his angelic voice.
Lastly, Golden Child performed their new title track which is receiving a lot of love 'ONE (Lucid Dream)'.
N.Flying Meet & Greet
N.Flying brought high tension to the Meet & Greet section held by MC Eric Nam. N.Flying recently came back with their 7th mini album "So, 通". N. Fia had to wait 8 months for their comeback.
With the session "Road to N.Flying", they did a K-Vocab quiz. Members had to make members guess a Korean word using English to explain. The words included for example: aegyo, nunchi, Jumo, Aigo, Jikcam, and more.
Next, N.Flying for the first time prepared a ballad version of 'Oh really.' with the guitar. It was such a nice present for fans.
It was already the end of their Meet & Greet section with their AR tower filled up with comments. They gifted a lucky fan with designed and signed sneakers.
MAMAMOO Stages
MAMAMOO appeared on stage with (as usual) great outfits for 'HIP'. HwaSa was sick and could not attend the show.
Members greeted MooMoos. They made heart and flower pose with them.
Next, they moved on "Live KCON-er interview" to answer questions of fans. MAMAMOO was on phone with Amber. She was asked how she was dealing with the stress of COVID-19 and answered that she was already feeling better after meeting the members. The three girls said they hope COVID-19 will end soon.
Amber asked how do the girls have all this confidence to which they answered that it was all from fans. She also asked for Solar's 'Spit it out' performance. The fan ended the phone call after telling them that MAMAMOO inspired her and other fans to have more confidence.
The three girls hope to see fans soon again and hope that by listening to their songs MooMoos get energy and positive vibes. It was touching to see that fans had prepared special slogans saying "Get well soon Hwasa".
Members concluded the stages with 'gogobebe', 'Egotistic', 'Starry Night', and 'Um Oh Ah Yeh', the last song featured fans.
Golden Child Meet & Greet
Golden Child introduced their new album "Take a Leap" and title track 'ONE (Lucid Dream)'.
First, they talked about members by answering questions. Y said JooChan is the member that showers the shortest time. JooChan replied that in the past maybe it was true but that it is not true anymore. He explained that it takes him 2 songs to shower but DaeYeol only 1 song.
JooChan said TAG is the clumsiest of the members. JiBeom said TAG is the most invested in something these days. TAG explained that he looked out for food that only maniacs like and that he is into arrangement.
Members then moved to the "Drawing dance revolution" session where they had to make members guess the dance by drawing it on screen.
Songs were SEVENTEEN's 'VERY NICE' and INFINITE's 'Be Mine'. They even showed a bit of 'VERY NICE'.
It was already the end of their Meet & Greet section with their AR tower filled up with comments. They gifted a lucky fan with designed and signed sneakers.
NATURE Stages
NATURE opened their stage with a dark and mysterious intro then moved to the song 'Girl'.
It was SoHee first KCon. She explained she did not sleep because she was very nervous. They especially prepared units. SoHee and ChaeBin sang an IU's song. The second unit HaRu and Lu showed the upbeat stages for 'FIESTA' of IZ*ONE. The third unit Uchae and SaeBom showed aegyos.
Their last two songs were 'I'm So Pretty' and 'BingBing'.
Special Stages by ASTRO
ASTRO's JinJin had a solo stage for 'Mad Max' about the mad society.
ASTRO's Rocky had a solo stage for 'Have a Good Stage'.
ASTRO's MJ had a solo stage for 'Don't Do It' with a cute and funny trot stage. He was joined by other members at the end.
Together Challenge
MAMAMOO's MoonByul joined the "together challenge". She completed the sentence We can [] together" by "stage". She chose ChungHa for the next "together challenge".
N.Flying Stages
N.Flying made their entrance on stage with an intro and the new song 'Oh really.'
The maknae DongSung was nervous to be on a huge stage like this and members cheered for him.
They had a photo time section. DongSung did a 'getting caught eating a snack at midnight by members' pose, SeungHyub's ending fairy pose, HweSeung's cute version of 'Oh really.' and Hun pose doing drums.
Next, they performed 'Autumn Dream' and 'Sunset'. They expressed their love for fans and thanked them. Members were happy to finally see N.Fia because they are important to each other. N.Flying finally sang their last song 'Flower Fantasy'.
MAMAMOO Meet & Greet
MAMAMOO was next on Meet & Greet for a studio full of energy. It has been a while since they had not performed, they were happy to perform and see MooMoos.
Members pointed out the members suiting the best at the questions. MoonByul was chosen as the member who tries everything that is trendy and who has the highest standard of laughter. HwaSa was chosen as the member who keeps asking for "just one bit". Solar was chosen as the member who would be the first to get promoted if she was in a company.
They moved to the "Live O.X" section. The first question was: can MoonByul show off cool rap with cute words? Fans and members voted if she could or not. Under the screams of Solar and WheeIn, MoonByul showed her rap with cute words. In the end, it was decided that she could.
The second question was: can WheeIn go beyond 3-line poems to multi-line poems? Fans and members voted if she could of not. WheeIn and Solar tried under members and Eric Nam's laughter.
It was already the end of their Meet & Greet section with their AR tower filled up with comments. They gifted a lucky fan with designed and signed sneakers.
ASTRO Stages
ASTRO prepared a lot for KCON:TACT! The group opened their group stages with 'Knock' with a beautiful universe stage and the cute song 'When You Call My Name'.
Members greeted the numerous AROHA and talked about the beautiful AR stage. They said to AROHA to always be happy together.
They then moved to a "1:1 call" session. Elena picked the call and chose the member and the mode of the conversation between comfortable friend mode, sweet boyfriend mode, and cute younger mode. She asked for "Mister Cha EunWoo" in the cute younger mode. Cha EunWoo asked her in English: "Nuna, how was the stage?", she answered that she loved the stage and especially 'When You Call My Name'.
Rocky did a surprise special stage with SF9's Chani. On dual color screen, the two dancers performed with matching black and white outfits. It was a great dancing performance.
Rocky explained that he has been friends with Chani for 10 years, he continued "we had the same dream since you". MoonBin who is also a friend of Chani since young said he felt proud looking at their collaboration.
Next, ASTRO moved to the next talks. Cha EunWoo was chosen to show his pretty and shining eyes. MJ was chosen to show his lips and he did a duck face for the camera.
Finally, they sang romantic 'All night', and the last song 'We Still' with AROHA and blue tones on the back. It was a beautiful last stage to close the day.
Day 6 was filled with positive vibes and love for fans. Sadly, there is only one day left of "KCON:TACT 2020 SUMMER".
Don't forget to check the video recap of Day 6 below.