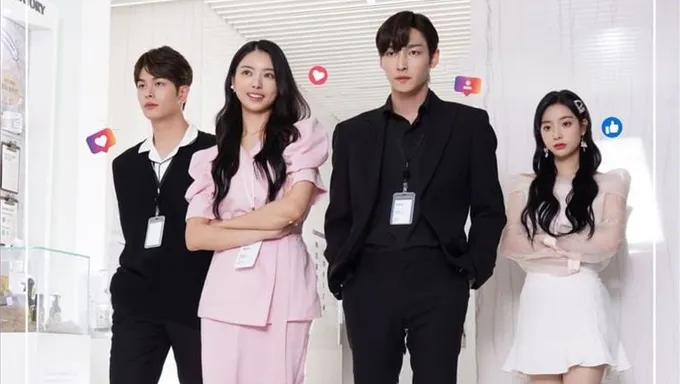 "Heartbeat Broadcasting Accident" is an office romance that involves unrequited love, influencer rivals, and a love triangle.
The leads in the web drama are SF9's ZuHo, Lim NaYoung, Lee HyunJoo, and Jung MinGyu.
ZuHo first appeared in SF9's debut web drama "Click Your Heart" in 2016 and officially made his acting debut in the web drama "Meal Kid". Fans are looking forward to seeing him play the leading man with Lim NaYoung in this web drama.
Lim NaYoung will show off a "fresh and youthful appearance" in this web drama. The former I.O.I and PRISTIN member made her acting debut in the 2020 drama "Flower Of Evil" and has proven to be a talented actress. She also starred in the web drama "Summer Guys", and appeared in the drama "Imitation".
Lee HyunJoo (former April member) acted in the dramas "The Witch Store", "The Colors Of Our Time", "Legally, Dad", and "Momin's Room". Fans are looking forward to seeing her acting transformation and doll-like appearance. 
Jung MinGyu is a model-turned-actor. He has appeared in the web dramas "Something Between Us, Summer Story", "Something Between Us, Comic Book Café", "The Secret Of Secret", and "When You Love Yourself Season 2". He will be appearing in his first TV drama "Desire" at the end of this year.
Here is more information.
Heartbeat Broadcasting Accident (2021)
Information
Title: Heartbeat Broadcasting Accident / Dugeundugeun Bangsongsago / 두근두근 방송사고 
Director: ​​​Hong ChungKi
Writer: Lee HaeRi 
Network: Shallwe Play YouTube, NaverTV
Runtime: From October 27
# of Episodes: -
Genre: Office Drama, Romance 
Language: Korean
Summary
A story about a live commerce company and how the young people who work there become entangled in an office romance.
Cast
SF9's ZuHo as Cha SeonWoo
SeonWoo is the first planning team leader at "Sherry Shop" and has good looks and top skills. He is YiSeo's first love and competes with Kwon Hyuck for her affection.
Lim NaYoung as Yoon YiSeo
YiSeo is a cheerful influencer who goes by the nickname "Yoonvley" (Yoon + Lovely) online. She has 100,000 followers. However, in reality, she has to work at "Sherry Shop" to afford her rent. She gets caught in the middle of a love triangle between her first love, SeonWoo, and his office rival, Kwon Hyuck.
Lee HyunJoo as Han YuRa
YuRa is a star host and influencer who has earned the nickname "Sold-Out Woman" in the home shopping world because of her natural good looks. She is also YiSeo's rival and has had a longstanding crush on Cha SeonWoo.
Jung MinGyu as Kwon Hyuck
Kwon Hyuck is YiSeo's longtime friend and the leader of Planning Team 2 at "Sherry Shop". He has an unrequited love for YiSeo is involved in an office love triangle with her and his rival, SeonWoo.
Poster & Teaser
Here is one of the teasers. 
Here are the official posters.
Where to watch