"Hello, Me" is a romantic comedy of the channel KBS.
Choi KangHee ("7th Grade Civil Servant", "Queen of Mystery", "Good Casting") and Kim YoungKwang ("Sweet Stranger and Me", "The Secret Life of My Secretary") are the lead actors.
Lee Re ("Memories of the Alhambra", "Start-Up") and Eum MoonSuk ("Tell Me What You Saw", "Backstreet Rookie") are also key characters.
Here is more information.
Hello, Me (2021)
Information
Title: Hello, Me / Hello? It's Me / Annyeong naya / 안녕 나야
Director: Lee HyunSuk
Writer: Yoo SongYi
Network: KBS x Netflix
Runtime: From Feb. 17
# of Episodes: 16
Genre: Romance, Comedy
Language: Korean
Summary
Miserable and unsuccessful, a woman thinks she's lost all her spark — until one day, her spunky younger self appears in front of her demanding change. (Netflix)
Cast
Choi KangHee as Ban HaNi (37-year-old)
HaNi is a contract worker who has no dream, no goal, and no hope.
Kim YoungKwang as Han YooHyun
YooHyun is an immature 30 years old from a wealthy family.
Lee Re as Ban HaNi (17 year-old)
She is the 17-year-old HaNi who appears 20 years later in the future. However, she is different from BaNi's younger self because she is bright and optimistic.
Eum MoonSuk as An SoNi
SoNi is a 37-year-old who used to be a top star. He is now overusing his power in the entertainment field.
Interesting Facts
Here is the teaser.
Here are the official posters.
Read More : Top 22 Most Followed Korean Actors On Instagram & 80 Other Actors' Instagram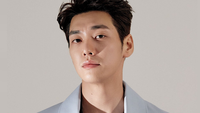 Became a fan of Kim YoungKwang
You can now view more their stories