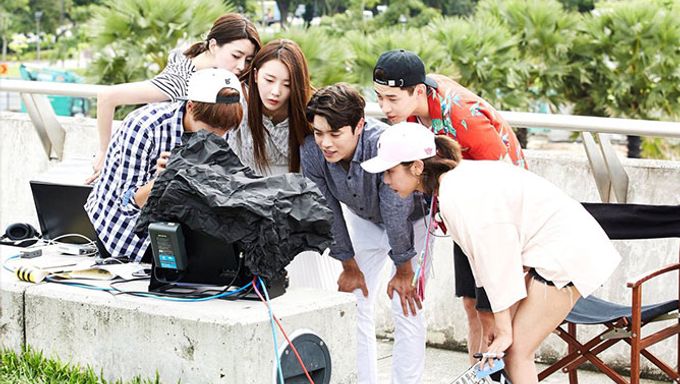 Hello Venus's NaRa checks, checks and rechecks as a perfectionist scripter on CGV's "I Am Also Film Director".
Hello Venus's NaRa showed her passionate and driven side through the reality program, "I Am Also Film Director". NaRa has been featuring on the CGV's show alongside 5 other K-Pop idols (Girls' Day's SoJin, Super Junior M's Henry, Eddy Kim, MBLAQ's Mir and Dal Shabet's SuBin), where they are challenged to film a challenging movie scene within a set time period.
Must Read : Hello Venus's NaRa Replaces AOA's SeolHyun for SKT?
On the latest episode, NaRa became a scripter who was necessarily OCD. From waking up before all the members to carefully checking every detail of each scene, NaRa showed her professionalism and passion for the show. She had even been given the nickname, "Question King" for constantly double checking and questioning every minor detail to the staff members.
During the interview, NaRa explained that she wanted to challenge herself as a scripter to shed her flippant personality. Under the blazing hot sun, she gave up her bright and cheerful girl group image and transformed into a serious scripter fit for the title of "Eager Beaver".
With her recent comeback promotions with Hello Venus and her latest modeling gig as SKT's newest idol-representative, NaRa has been on a stellar streak with continually impressive performances. The trailer for the 3rd episode leaves the viewers anxious with curiosity for NaRa's continual change and development.