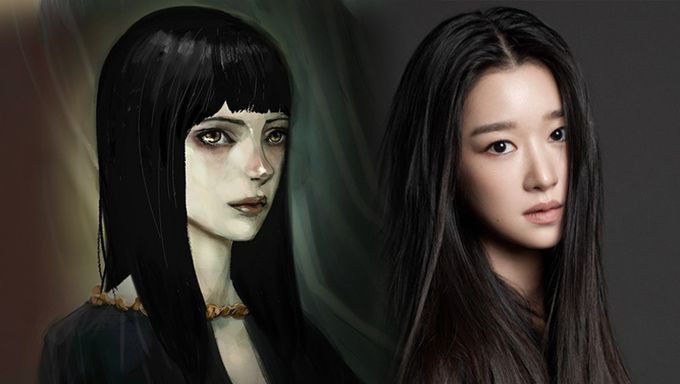 It's time for another dream cast for K-Dramas based on webtoons!
In the last year alone, numerous webtoons have been adapted into dramas and films, several others have been confirmed with production underway and even more have been officially announced to be getting a drama adaptation in the near future. 
The latest webtoon to join the roster of upcoming drama adaptations is "Delusion". The original work is by Hongjacga, titled "현혹" or "Delusion". The story is based in 1935 in Gyeongseong where a struggling artist Yun Iho has just received a strange commission from the strange and reclusive Madam Song JeongHwa. No one has seen her face to face but it is assumed that she is an elderly woman from the aging portraits she has displayed of her. In order to have her portrait painted, Madam Song allows Iho to look at her but much to his surprise, it is a young woman who hasn't aged a day over her twenties.
Madam Song however, insists on him painting an elderly version of her for some unknown reason, indicating a dark secret that lurks behind her appearance. Iho soon learns that no artist has left Madam Song's abode alive or even sane. A secret message tucked between a previous artist's paint tube warns him against finishing the portrait. A dark secret lingers behind this commission, with the consequences of finishing the portrait of utmost importance.
The webtoon is gripping in every sense of the world and we soon find out that the secret that underlies the narrative is none other than that of vampires: ageless, eternal, bloodsucking vampires. 
Here's a look at the webtoon!
There are many interesting characters in the webtoon who are also equally mysterious as our protagonists. We already have some amazing actors in mind for the drama adaptation of "Delusion"!
1. Yun Iho
Yun Iho is an unsuccessful and obscure artist who is nonetheless talented. He spirals into unavoidable paranoia after he is commissioned to paint the portrait of Madam Song JeongHwa and suspects that she might be a vampire. He starts suffering from insomnia and anxiety. However, Madam Song is strangely comfortable with Yun Iho and eventually opens up to him as well, confessing to her identity and her past. We think Lee JeHoon, Lee DongWook, Lee DoHyun, and Kim JaeWook would be amazing at this role. 
Who should play Yun Iho?
※You can vote multiple times without sign in.
Lee JeHoon
Lee DongWook
Lee DoHyun
Kim JaeWook
2. Song JeongHwa
Song JeongHwa is a woman of extraordinary beauty but she is also sensitive and at times eccentric. She lives in seclusion and hasn't left her mansion in years. She comes off as disrespectful to those around her but part of that comes from her real age which is much more than what her appearance shows. She was abused for a lot of her life, especially in her childhood as she grew up in a toxic environment. She did not turn into a vampire of her own volition and as such, regrets becoming a vampire. Throughout the webtoon, she is a determined and brave woman. 
We think Seo YeJi, Lee Elijah, Krystal Jung, and Song HyeKyo would be perfect for this character.
Who should play Song JeongHwa?
※You can vote multiple times without sign in.
Seo YeJi
Lee Elijah
Krystal Jung
Song HyeKyo
Note: The aim of the vote is for Kpopmap readers to share their opinion about their preference for the cast. It is not affecting the cast of the production team.
If you are interested in other drama adaptations of webtoon and their dream cast, you can check out our previous articles: "The Moon That Rises In The Day", "Love Alarm", "Something About Us", "Cohabit That Is Knocking Me Over With A Feather", "True Beauty", "Sweet Home", "A Good Day To Be A Dog", "Itaewon Class", "Lookism", "The Remaried Empress", "Gorae Byul - The Gyeongseong Mermaid", "There Must Be Happy Endings", "Now I'm Taking A Break From Dating", "Weak Hero" and more.
Are you excited for the drama adaptation of "Delusion"? Share your thoughts with Kpopmap in the comments section down below!