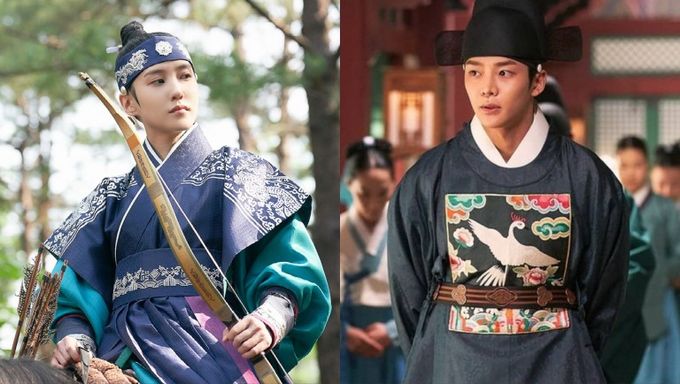 In the final quarter of 2021, one of the most highly anticipated K-Dramas is Park EunBin and SF9's RoWoon's "The King's Affection". It is the secret court romance drama of a woman who was abandoned because she was born as a girl. When her twin brother died, she was asked to pretend to be him: the Crown Prince. The drama released its first poster on September 6, 2021, and fans were in awe of how good both the leading actors looked together. 
On September 8, 2021, KBS released the very first still cuts of actress Park EunBin as Crown Prince Lee Hwi and RoWoon as Jung JiWoon. Park EunBin looks sharp and indifferent with a cold air about her. Without a doubt, Park EunBin has perfectly embodied the essence of a Prince. 
In one of the pictures (as seen on the cover of this article), she is on top of a horse with hunting gear. Park EunBin looks determined in a charismatic way. In the two other photos that were released, she has a mysterious expression in her eyes, that prefaces her real nature behind her hard front. 
Here's what fans have to say about Park EunBin's character!
Prince Lee Hwi looks so good 🤩🤩🤩 #TheKingsAffection #ROWOON #ParkEunBin pic.twitter.com/fV8m1fv4dO

— 🐭AFFECTION D-32 (@seogu0807) September 8, 2021
RoWoon's character Jung JiWoon is Crown Prince Lee Hwi's royal tutor. He comes into her life like a wind of change that melts her tough exterior and allows her to feel the emotions she had been holding back for so long. Jung JiWoon is a noble scholar and he looks gentle and sophisticated. 
His charming smile is enough to make our hearts flutter. At the same time, his distinguished demeanor makes him stand out. 
Fans cannot help but swoon over his classic historical drama look.
Omg omg My Jung Ji Woon 😻😻 Rowoon looks so good in this traditional clothing!!! #TheKingsAffection #YEONMO #ROWOON #ParkEunBin pic.twitter.com/MgUWn0Nchd

— 🐭AFFECTION D-32 (@seogu0807) September 9, 2021
First still cuts of this pair 💙✨

AAA I'm gonna love this couple!

PS. So stoked it's available on Netflix, so I can easily watch this~#ParkEunBin x #Rowoon#Affection #Yeonmo pic.twitter.com/SlNBxCOkfI

— Tris ✿♡ | Sso 🐣 (@dedicatedfangr7) September 9, 2021
"The King's Affection" will be available for streaming through Netflix on and from October 11, 2021. Are you excited for this drama? Share your thoughts with Kpopmap in the comments section down below!