After a video of Dino saying "Dear MinKyung, I love you" got released, fans are arguing on opinions in different ways.
On August 30th, on the official twitter account of SEVENTEEN, a video was posted with "What's this? Pls give us feedback". On the released twit, a man who are presumed to be SEVENTEEN's Dino is lying on the bed half-naked. He is blowing a kiss to the camera, saying "Dear MinKyung, love you". 
Netizens who wateched this video reacted, "Is this Dino? does it make sense?", "Who is MinKyung?", "It seems that there's need to be explained" and "Let me know where this video came from". Despite many rumors dealing with this video, Pledis Entertainment hasn't shown any other official announcement on this situation, just keeping saying "Checking facts RN". 
What's more serious is that MinKying of PRISTIN is being misconstrued to be Dino's MinKyung. The only reason why she is being mentioned by people is she has the same name with what Dino said in the video. However, after checking out all the clues and evidences from fans, Dino's MinKyung seems to be a female staff working in Pledis Entertainment. Because fans found out that MinKyung was already mentioned by Dino before, on the 'Thanks to' of Dino. 
Must Read : An Idol Couple Who Are Caught to be Dating by Careless Actions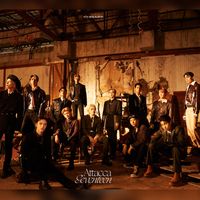 Became a fan of SEVENTEEN
You can now view more their stories