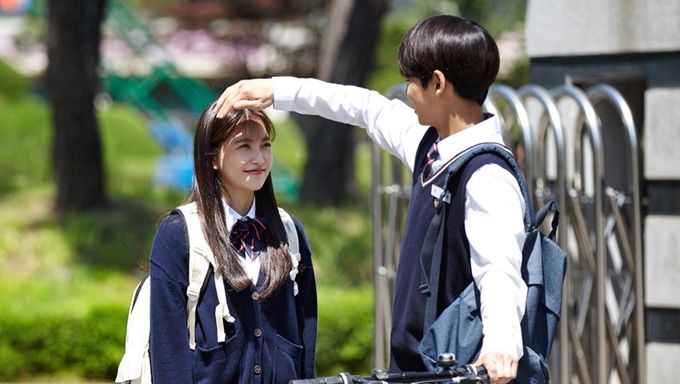 The latest PLAYLIST Original web drama that is making fans scratch their heads to decipher the plot is PENTAGON's HongSeok and Red Velvet's YeRi's "Blue Birthday". HongSeok plays Ji SeoJun, the center of this drama around whom the story revolves. YeRi plays Oh HaRin, Ji SeoJun's friend and crush. On HaRin's 18th birthday, Ji SeoJun passes away in a tragic manner that leaves HaRin heartbroken and traumatised. Ten years later, she figures out a way to turn back time and possibly save Ji SeoJun.
The genre of the drama varies between a time travel mystery and a campus romance, which is a refreshing mix for a change. Moments, when Oh HaRin returns to her 18-year-old self and spends time with her friends, getting to know them better with a newfound maturity while retaining the innocence of a teenager at the edge of youth, are truly some of the most beautiful scenes in the show. However, what is catching the eye of viewers the most is Oh HaRin and Ji SeoJun's chemistry.
Ji SeoJun is quickly emerging as the nation's high-school sweetheart for his sweet and gentle nature, caring personality, his protective streak, and of course, his soft-spoken honey voice.
I am so incredibly attached to Seo Jun, he is the ultimate lovable character, also him as Ha Rin's boyfriend I am flipping out. I am in love with Yang Hong Seok #BlueBirthday#BlueBirthdayEp5 #HongSeok pic.twitter.com/qmcYR1gXPE

— Maria 📌| AFTER MIDNIGHT 🏊🏻‍♀️ (@ssagajimaria) August 6, 2021
If my boyfriend don't give me full attention like hongseok give to yeri i'll break up with him ✋🏼 pic.twitter.com/DSyCvBSNCx

— mae #oh Harin ♔ (@kingyerimies) July 20, 2021
Needless to say, fans' standards for romantic partners are skyrocketing with how good Ji SeoJun is to Oh HaRin.
Seojun's fierce look out of jealousy just sends 'don't try to take my girl out' AAAAA PROTECTIVE BOYFRIEND RIGHT HERE #BlueBirthday #김예림 #홍석 #yeri #hongseok #redvelvet #pentagon https://t.co/dwOfpuvrUG

— Blue Birthday Enthusiast (@velvetagon) August 6, 2021
His subtle attempts at making sure everyone knows that Oh HaRin is his girl just screams "ideal boyfriend". After all, who doesn't like a little bit of healthy possessiveness? Besides, having your best friend and boyfriend be the same person is a blessing, to say the least.
Is Ji SeoJun your ideal type too? Or do you prefer HongSeok? Share your thoughts with Kpopmap in the comments section down below!