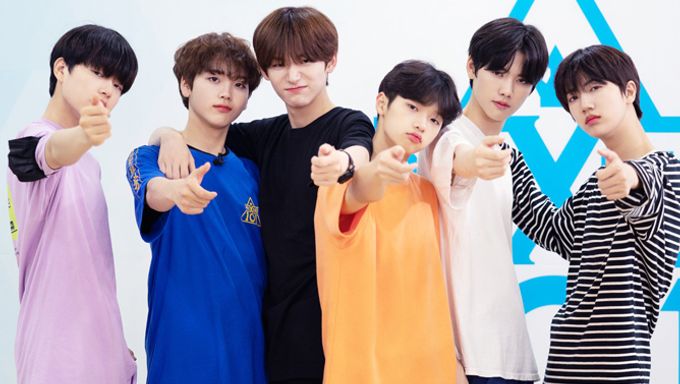 Only 2 more episodes left for Mnet "Produce X 101" and the viewers are getting excited and nervous for the finale!
On the previous episode, 31 trainees performed 5 different concept songs as part of their concept evaluation. It was also said that the upcoming episode airing on July 12, 11 pm KST will be the last round of elimination before the final episode.
Before we start worrying for our favorite trainees, let's find out what had happened in the previous episode!
#1 Trainees that were eliminated came back to watch the stages
Just like previous seasons, trainees who were eliminated from the program came back and watched the live performance of the concept evaluation. Many of them were seen supporting those who are still in the show!
They also managed to snap a photo with MC Lee DongWook!
#2 Starship's Ham WonJin struggling for recording of 'Pretty Girl' 
Many fans of Starship's Ham WonJin found their heart aching as they saw how he tried to push himself even though he was sick. During the recording for 'Pretty Girl', the trainee was seen straining his vocal cords and was also angry at himself when he could not sing like how he had wanted.
Eventually, the producer decided that it was the best for Starship's Kang MinHee to take over his lines for the sake of the group. Although it was unfortunate, many of his fans hope that he will recover as soon as possible!
#3 Individual trainee Lee Hyeob's incredible high notes of 5 different levels
One shocking moment for the team 'Monday to Sunday' took place when individual trainee Lee Hyeop surprised many with his outstanding vocal skills!
He was told by the producer of the song that he should add in his own ad-libs. Soon enough, MBK's Nam DoHyun and iMe Korea's Lee SeJin began to throw in suggestions which eventually allowed him to impress them with his high notes!
He managed to hit 5 different levels of high notes that caused many of the viewers to get goosebumps.
#4 'U Got It' amazing performance
It is hard to deny that 'U Got It' was one of the sexy stages by far that trainees had shown viewers!
Fans who were present during the evaluation could not help but talked about how charismatic each of the trainees are on stage. Some pointed out that Plan A's Han SeungWoo was extremely good in live. In addition, his V-line outfit also allowed his fans to see some of the tattoos that he has.
Others also mentioned that each and everyone of them were good in their facial expressions, proving that they are definitely ready to debut as idols.
Just as expected, the group received the highest number of votes! Congratulations to all of them!
#5 The trainee with highest number of votes received
At the end of the evaluation stages, all of the trainees were gathered and MC Lee DongWook announced the votes received by each trainees.
Yuehua's Cho SeungYeon had successfully earned the hearts of the audience with a total of 145 votes! He had performed as the center of 'Move', showing off his rapping and performance skills.
He beat OUI's Kim YoHan by a mere vote causing many to understand the importance of one single vote.
Read More : "Produce X 101" Trainee Lee SeJin Wows With Handsome Looks On His Way To "Mcountdown"