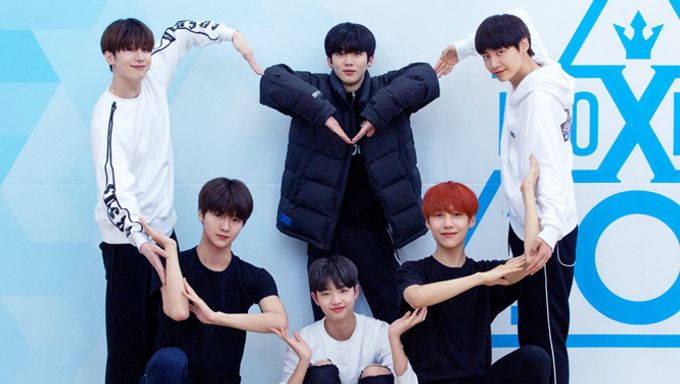 Can you believe it has been a month since the start of Mnet "Produce X 101"?
Currently, it is one of the most talked about show in the K-Pop industry and on episode 5, the first elimination of the trainees took place. Only 60 trainees are left but before we get into that, let's find out what are some of the highlights!
#1 Jellyfish's Kim MinKyu as visual center
One of the most anticipated moments of all "Produce" seasons is when trainees vote among themselves as the visual center. Previously, Kpopmap had wrote an article about the top 11 visuals selected by the trainees. It was announced that the most voted trainee is none other than Jellyfish's Kim MinKyu!
Congratulations to him!
#2 MC Lee DongWook comforts E Entertainment's Lee WonJun
Ever since Lee DongWook was appointed to be the MC for "Produce X 101", a lot of netizens and viewers were charmed by his good looks and kind personality.
When E Entertainment's Lee WonJun was announced as the 44th trainee, he could not seem to be able to control his tears and emotions that were held back. He kept crying till the extent that Lee DongWook came over and comforted him.
Other trainees who were present were envious of the interaction they had and they also found Lee WonJun really adorable!
#3 Trainees with the most and least fear
Viewers found it entertaining when the trainees were tricked into thinking that they were to share their confessions in front of the camera when the main point was actually to scare them.
While they were facing the camera, the 'door' behind suddenly opened! The trainees were then greeted by a 'ghost'!
Two trainees that received the most attention is none other than individual trainee Kang SeokHwa and MBK's Nam DoHyun! The former trainee seemed to be fearless and gave a calm reaction when he saw the 'ghost'.
kang seokhwa's "can you scare me again?" got me ROTFL 😂😂😂😂
atleast he's trying to make the ghost's job work on him 😂#PRODUCE_X_101 #프로듀스X101https://t.co/kQP1xjTM2A

— ish; stream #FLASH 🦋 (@x1ky_haan) June 1, 2019
One fan uploaded the short clip and you can watch again through the video above.
With that being said, Nam DoHyun was the trainee who seemed to be really frightened by the 'ghost'!
nam dohyun's reaction during the ghost prank was the best 😂
https://t.co/2d6Df0yMFw

— 👑 (@presidentjunkyu) June 1, 2019
Through the short clip uploaded by another fan, he was screaming at a rather high pitch and even asked the camera man to go in front of him.
The two trainees received both positive reactions from the viewers after seeing how much of a vast difference they were.
#4 5th week rankings by Mnet 
The 10 trainees who had received the most amount of vote for the 5th week are as the following. OUI's Kim YoHan, Jellyfish's Kim MinKyu, Starship's Song HyeongJun, TOP Media's Kim WooSeok, Brand New Music's Lee EunSang, MBK's Nam DoHyun, DSP Media's Son DongPyo, Music Works' Song YuVin, Starship's Koo JungMo, and Starship's Ham WonJin.
Comparing it to the results on Kpopmap voting, there seemed to be not much of a difference in the top 10 results. You can vote for your favorite trainees here.
Share with us who are your favorite trainees!
Read More : All "Produce X 101" Trainees Organized By Age And Youngest & Oldest Trainee