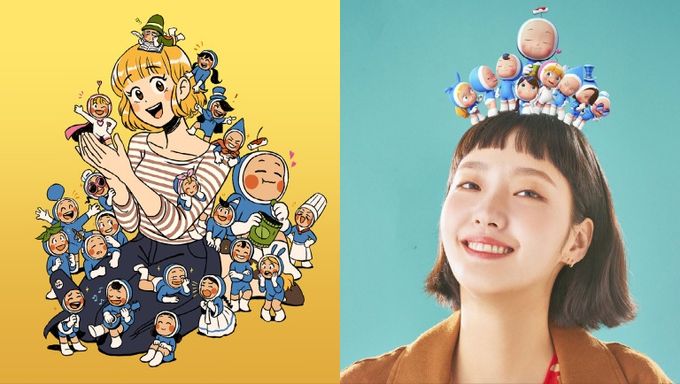 As we get closer and closer to the premiere of "Yumi's Cells" starring Kim GoEun and Ahn BoHyun in the leading roles, now is this best time to familiarise yourselves with all the cells that will be featured on the show in the form of lovely animations. 
Yumi's cells wear bright blue suits, with a few exceptions like the Writing Cell, which wears a green one. She has inherited her Emotional, Curiosity, and Jinx Cells from her mother's side and her Rational, Hungry, Anxiety, Detective, and One-Step-Behind Cells from her father's side. 
TVING has released special "Insepugram" profiles for each of the cells that will be featured on the show. Here's a full rundown of all of them so far!
The Bulletin Board Manager Cell
This cell is in charge of organisation and managing the bulletin board inside Yumi's head.
Hysterius
As the name suggests, Hysterius is in charge of Yumi's hysteria.
Heart Fluttering Cell
This cell is in charge of heart-fluttering moments and feelings in Yumi. As the first picture on the grid suggests, Yumi's heart flutters when she brushes hands with her coworker Wook (played by SHINee's MinHo).
Rampage Cell
This cell is responsible for Yumi's anger and impulse. As its outfit suggests, this cell is a ticking time bomb that could go off at any time, especially under stress.
Detective Cell
This cell is responsible for inferring and getting to conclusions from some given information. Just like its name implies, the Detective Cell helps Yumi make sense of strange and confusing situations. However, it is not always correct.
Anxiety Cell
The Anxiety Cell is in charge of sensing YuMi's anxiety. The second picture in the grid shows YuMi having a nervous breakdown and our poor Anxiety Cell looking anxious as well. This cell has blonde hair like YuMi in the webtoon. 
Cleaning Cell
This cell is responsible for YuMi's beauty and hygiene. As is clear from YuMi's pictures in the first and third grid, this cell does its job really well!
Hungry Cell
As is obvious from its name, this cell is in charge of YuMi's hunger, appetite and taste. When the Hungry Cell eats, YuMi becomes hungry.
Naughty Cell
The Naughty Cell is responsible for all things hot and heavy. It gives YuMi a vivid imagination and urges her towards intimacy. It has a smirk on its face and often lights the cell village on fire. 
Fashion Cell
This cell is responsible for YuMi's style and fashion sense. What she wears everyday, how she does her hair and makeup, everything is determined by the Fashion Cell.
Love Cell
One of the most important cells in "Yumi's Cells", the Love Cell is in charge of YuMi's romantic feelings, relationships, and crushes. It often takes up the position of the Prime Cell for YuMi. It wears a pink and white outfit. 
Rational Cell
This cell is responsible for YuMi's logic and reasoning. The Rational Cell is the leader of cells and helps YuMi see things in a realistic manner. However, sometimes it is not very helpful in situations that call for emotional intelligence.
Emotional Cell
This cell steps in when YuMi needs to think of things from an emotional perspective. It also helps YuMi in writing and other creative projects. The Emotional Cell is asleep in the morning and only wakes up late into the day.
Which of YuMi's cells is your favourite? Share your thoughts with Kpopmap in the comments section down below!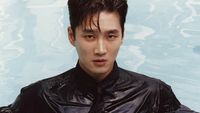 Became a fan of Ahn BoHyun
You can now view more their stories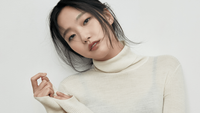 Became a fan of Kim GoEun
You can now view more their stories