In the middle of summer, here's the poorest girl group who are living in dorm without air conditioner.
April's behind video of MBC "Show Champion" was released. In the video, April members answered to the question asking what is your the source of worry, "We need the air conditioner in our dormitory.". One of member added explanation, "It's 30℃ in dormitory.". All the members started to take a video-letter to the company, DSP Media. As the representative, NaEun begun to speak "We wanted you to change air conditioner in dormitory into new one.".  Then other members asked "An air conditioner per room?" and ChaeKyung said "I don't want that much.". 
Netizens reacted toward this video, it's so cute to see them asking air conditioner, however, on the other hand, it's too bad to let them stay in hot dormitory in this crazy weather without sane air conditioner. Some of them claim that the air conditioner is the smallest human right for them in summer. 
Must Read : MV )) APRIL – MAYDAY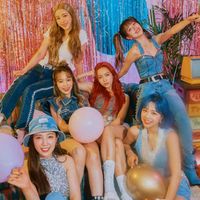 Became a fan of April
You can now view more their stories