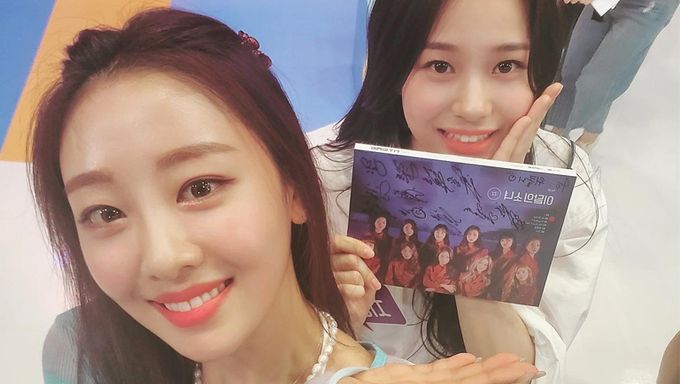 Weeeklyhas debuted just about 2 weeks ago and they have been receiving lots of positive comments from K-Pop lovers. It was already previously reported that they are the best selling K-Pop rookie girl group among those who had debuted in 2020.
On July 13, fans noticed that Weeekly had went for the recording of "Fact iN Star" and one of the hosts is none other than LOONA's Yves.
Some might already know about it but it was said that member JiHan is actually a huge fan of LOONA even before her debut. Seeing how she was able to be in the same program with Yves had allowed many of them to feel touched and happy for her.
요즘 핫하다는 이 주식 삽니다🤏💓
사실분?#위클리 #이번주는_위클리 #Weeekly #Jihan #지한 #LOONA #이달의소녀 #Yves #이브 pic.twitter.com/h530BoM3bs

— Fact iN Star_STAFF (@factiNstarSTAFF) July 13, 2020
The two of them also took selfies together and JiHan had also received a signed album of LOONA!
However, that is not the end as July 12 was actually JiHan's birthday and LOONA's Olivia Hye had even recorded a video message for her! Seeing how she was able to receive a message from her favourite group, JiHan could not help but burst into tears.
Fans were able to take photos and notice how adorable JiHan was.
Aside from that, fans had also shared video of JiHan dancing to 'love4eva' along with Yves.
지한 이브 럽포에버 (๑˃̵ᴗ˂̵) pic.twitter.com/GDxPGLMckE

— 🎄 (@ayvcu) July 13, 2020
It seemed like JiHan is probably one of the most successful fans of LOONA and many K-Pop fans are also envious of her. With that being said, it was also hoped that both Weeekly as well as LOONA will have future interactions or even stage collaborations in the near future.
Weeekly is now currently promoting their debut title track 'Tag me (@me)' on various music shows.
Are you loving how JiHan is a successful fan?