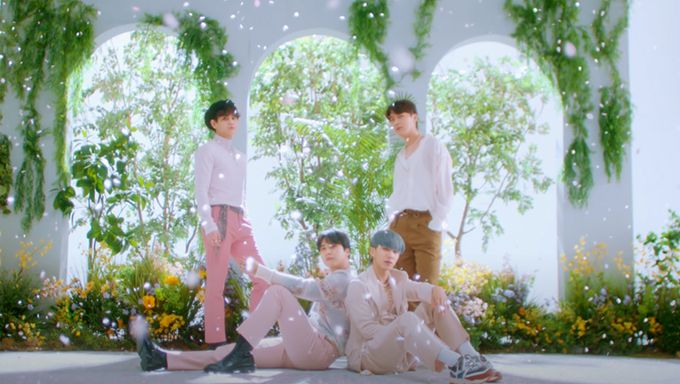 Highlight is back with their highly anticipated mini album "The Blowing" - it has been three years since their last comeback and the members are finally back on stage after their military service. It seems that, with this comeback, they are on a mission to make sure that their fans have not forgotten them. This is made obvious by the lyrics they released during their teaser, "I'm still here, it's not the end."
In fact, their title track and music video release for this comeback is titled 'NOT THE END' and starts off our album review with breathtaking visuals and killer vocals, that make us forget that they were ever gone.
The four members - DooJoon, YoSeob, GiKwang, and DongWoon: float through light floral visuals contrasted by their powerful moves and lifted by the EDM chorus. At the 01:49 mark, the camera tracks out and we find ourselves going frame-by-frame with all four of the members. It's reminiscent of going through time and ends with DooJoon repeating the line, "Still here, it's not the end." 
This reminds us that no matter how much time has passed, they want to continue making amazing music; which they definitely have with the rest of their tracklist.
If you listen to the album in order, it tells a cohesive story. The second song, 'Wave' tells the story of someone who makes you feel like you're in a dream because you can't believe how lucky you are to have them. Even if you're not sure how long the relationship will last, you want to stay with them forever. Will you ride Highlight's wave?
The third song, 'Hey Yeah' lifts us out from the depths of the waves to stare at the starry night. The song is addictive, groovy and encourages one to bop along. There is a lot of emphasis placed on harmonies and creating wholeness through their music, even in the upbeat pop songs.
So far, the songs have all had different sounds, but member GiKwang (who was part of the creative process) has been noted as saying that they wanted to highlight their distinct style with this project. GiKwang has been getting a lot of attention in the K-Pop scene these days, check out this article about his time on "KCON:TACT 3" to find out why. 
Next, we have 'Sorry' which talks about missing someone and holding on to the hope of seeing them again. The members apologize for the wait through heartfelt lyrics. This track is similar to one of their previous releases when they were active as BEAST called 'Practice' down to the beat count and tempo, excluding the piano melody from the new release.
'Disconnected' is the most experimental sounding track - starting with a disjointed beat and combined with a mellow melody to continue the dreamlike essence of the album. It has some trap elements that give it a harder and more hip-hop adjacent feel. The background has a lot of ticking watch elements and various sounds one can associate with the progression of time. This ties in with lyrics about memories, good or bad, becoming disconnected over a certain period.
Finally, 'Surf' ends the album with a fusion between R&B and pop. The song is calm but optimistic, and so are the lyrics. This is the song that they use to really show off their harmonies as a unit and their talents individually. The eurythmic ad-libs add a natural element and highlights the end of the beautiful dream that is this mini-album.
Overall, the album is an extremely narrative piece and explores elements of dreams, memories and time; perhaps that the members want to recall with their fans and also create more of.
What did you think of Highlight's comeback and mini-album?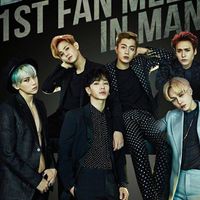 Became a fan of BEAST
You can now view more their stories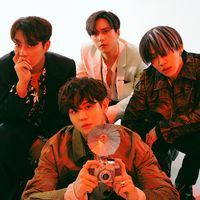 Became a fan of Highlight
You can now view more their stories