HIGHLIGHT member Yong JunHyung, recently left the group and the K-Pop industry after being embroiled in the current scandals involving singer Jung JoonYoung's and SeungRi's chat rooms that were used for uploading sex tapes filmed with a hidden camera, along with discussing solicitation of prostitutes for business investors.
According to reports from SBS, Yong JunHyung exchanged text messages with Jung JoonYoung 1:1 and received an explicit video. Investigations has shown that the K-Pop idol engaged in an inappropriate conversation about the video with Jung JoonYoung.
Yong JunHyung's agency Around Us Entertainment released an official statement of apology and announcement of his departure from HIGHLIGHT.
"We would first like to apologize for confusing everyone with our initial official statement.
In accordance with the news report from SBS 8 on the 11th, Yong JunHyung went out drinking one night with Jung JoonYoung back in 2015. The next day, while catching up with each other through texts 1:1, he watched an illegal video clip that was sent to him by Jung JoonYoung and engaged in inappropriate conversations with Jung about the video. We were able to confirm this fact through the investigations that were conducted on the 13th, in which Yong JunHyung cooperated in.
Yong JunHyung cooperated to the fullest during the investigation that took place on the 13th and realizes the seriousness of his actions, and is taking time to reflect on his actions which included disappointing the public through his past statements. He is also aware that it will be very difficult for him to be forgiven this time, and apologizes to the fans and members of HIGHLIGHT for breaking their trust. He has agreed to leave HIGHLIGHT on March 14th, 2019 so that no further additional damage may be inflicted upon the group's image.
We apologize for not checking the facts and getting our stories straight and leading everyone in to confusion despite Yong JunHyung being involved in the recent scandals. We will ensure that something like this does not happen again. We apologize once more to the fans of HIGHLIGHT."
Read More : SeungRi Warned Choi JongHoon That Getting Caught Drunk Driving Again Can't Be Silenced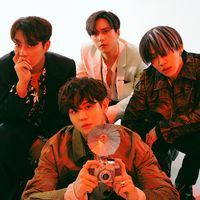 Became a fan of Highlight
You can now view more their stories