Highlight started their second theatre of their career, after the disbandment of BEAST. 

Some members of Highlight shared their feelings of being ranked number 1 in the music chart as soon as they debuted.
Their leader Yoon DuJun said that they feel so thankful for all the support fans gave and delighted that the song was enjoyed by many people. He joked about the song bringing peace the whole world. Yong JunHyung said that there were many hardships to overcome, and it wasn't easy to stay firm, believing in themselves.
However, he wanted to thank the people who helped them and believed in them throughout this re-debut. Lastly, Lee KiKwang spoke honestly of his feelings, "I had so many worries. But I am so glad that our group was rewarded of our hard work. We will work hard to make no frowns in our fans faces, but only smiles."
They treated themselves as a new group, although they had many years working in the industry, and started off fresh.
Must Read : MV )) HIGHLIGHT – Plz Don't Be Sad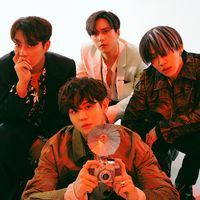 Became a fan of Highlight
You can now view more their stories