Hilarious Collision Between AB6IX's Jeon Woong And Weki Meki's Rina During "ISAC 2019"
On Aug. 12, the recording for MBC "Idol Star Athletics Championships" Chuseok edition took place. For more information about the lineup and results by fan, you can check out the posts here and here respectively.
During the recording, many idols had to wait and they tend to kill time by playing simple games or interacting with fans.
It was during then when fans of AB6IX noticed something rather hilarious that happened to AB6IX's Jeon Woong when he was playing a game with DongHyun.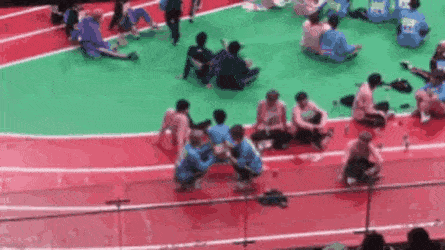 Weki Meki's Rina and YooJung were seen to be walking by them while waving to their fans. However at the same time, Jeon Woong had lost his balance after DongHyun had pushed him during the game, causing him to collide into Rina.
Both idols were shocked by the situation and fans could clearly see that Jeon Woong was flustered and apologized furiously to Rina and YooJung.
Fans who had seen the incident thought that it was rather hilarious to see how it had all happened.
You can check out the full video taken by a fan below.
190812 아육대
둘째셋째 밀치기 싸움하다갘ㅋㅋㅋㅋㅋㅋㅋㅋㅋㅋㅋㅋㅋㅋㅋㅋㅋㅋㅋㅋㅋㅋㅋㅋㅋㅋㅋㅋㅋㅋㅋㅋㅋㅋㅋㅋㅋㅋㅋㅋㅋㅋㅋㅋㅋㅋㅋㅋㅋㅋㅋㅋㅋ#AB6IX 는 못말려🤣🤣 pic.twitter.com/J80oqLlF7h

— 💕뻔 (@AllaboutWJ) August 12, 2019
After Rina and YooJung had walked away, Jeon Woong and DongHyun were also seen apologizing to fans of Weki Meki.
Those who had seen the video also commented that Jeon Woong was really hilarious and that he was adorable too.
Did you find the collision hilarious too?
Read More : Pre-debut Pictures Of AB6IX's YoungMin And WooJin Attending Same Dance Academy Surface