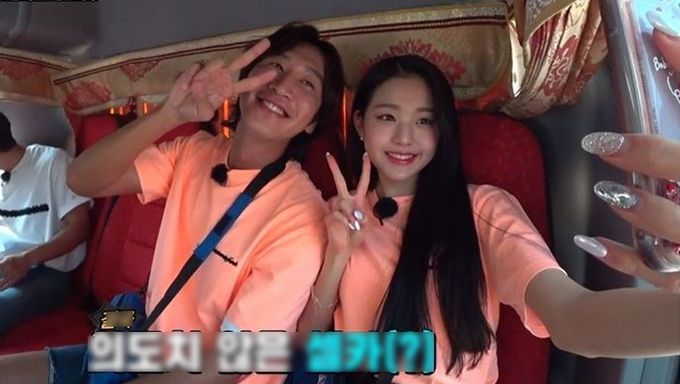 Did you tune into the latest episode of SBS "Running Man"?
The most recent episode has numerous guests and one of them include IZ*ONE's WonYoung!
WonYoung was paired with actor Lee KwangSoo in the show and while they were travelling to the next location, both of them were sitting at the back of the bus.
Initially, WonYoung was taking selfies by herself and soon enough, Lee KwangSoo had also joined in.
After which, WonYoung asked if he would like her to send the selfie taken together.
At first, the young idol was wondering how she could send the photo to Lee KwangSoo.
On the show, the subtitle at that moment read "I would need the phone number if I want to receive the photo", suggesting that WonYoung would have to give her number to Lee KwangSoo.
In the end, WonYoung recalled that iPhone has the 'airdrop' feature which made use of bluetooth to transfer photos and files to another iPhone.
It looked like Lee KwangSoo did not expect her answer and it also showed how people these days are making use of the 'airdrop' feature to transfer photos to one another.
Compared to years ago, people would require each other's phone number before that could send photos and other files through the phone. It also showed the generation gap which Lee KwangSoo has with WonYoung. Both of them have an age difference of 19 years.
After the end of the episode, WonYoung had also shared how she had really enjoy her time on "Running Man" through IZ*ONE official Twitter account.
Do you also find the moment interesting?