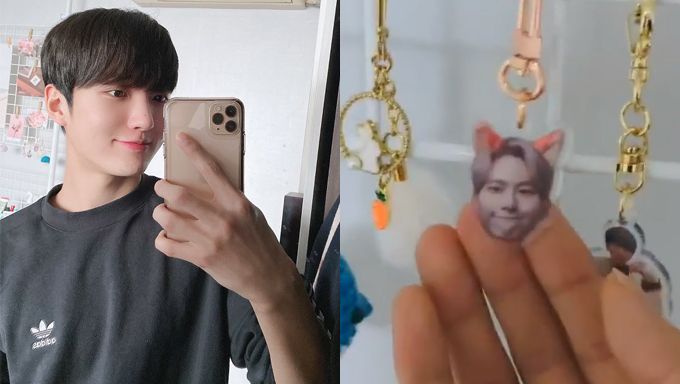 On Feb. 9, UP10TION's SunYoul held a V-Live session with HONEY10 and during that time, he was seen sharing about his recent updates as well as answering some of the questions asked by them.
If you did not manage to watch it, you watch the re-upload below.
SunYoul had mentioned that he was currently in his room and after flipping the camera to introduce a part of his room to HONEY10, one particular item had caught the attention of many!
If you were to focus the V-Live session at 17:40, SunYoul began to laugh as he asked his fans if they were seeing something funny.
It was none other than a keyring and hand mirror of VICTON's SeungSik!
Many were confused by why he had both items and the idol was also laughing while recalling at how he had received them.
SunYoul explained that he had received through a fanletter and initially wondered if it was addressed to him correctly. However, after reading the letter, he confirmed that it was for him but also wondered if the fan had mistakenly gave him the wrong goods. He thought that it was a rather interesting experience also assured his fans that he did not feel bad receiving it at all!
Needless to say, many HONEY10 were mentioning at how hilarious it was and also thought that it was interesting to see how he had decided to just hang the key ring together with the rest of his key ring collection.
🐰 이발했다아-#업텐션 #UP10TION #선율 #SUNYOUL pic.twitter.com/UHNTJGe7kC

— 업텐션(UP10TION) (@UP10TION) February 9, 2020
Some also shared that maybe it was a sign for both idols to get closer to each other and many also hoped that they could get to know each other too.
Did you find the incident adorable?
Read More : VICTON's ByungChan, UP10TION's WooShin And Kim MinKyu Hang Out Together