Sasaengs acquiring K-Pop idols' phone numbers has become quite an issue lately, as there have even been instances where hackers would sell idols' contact information to the highest bidders online.
While BTS member JiMin's private contact information has not been compromised, a sasaeng fan who believed she acquired his number began to continuously send messages to someone else, thinking that the person was JiMin.
You can check out the messages below!
"What are you up to?????"
"I'm eating jokbal (pig's feet) right now? You want one?"
"It's really good."
"I love all of you guys and am thankful for all of you. Stay healthy!"
"JiMin, can you reply?"
"Is this BTS JiMin?"
"You know that I'm always rooting for you right? I might die if I don't get a reply from you. Just once..."
"This is JiMin's phone right??"
"JiMin...can you just reply once? I miss you"
"Please reply. I'm such a big fan that I might die if you don't reply..."
These messages are literally just the tiniest fraction of plenty more messages that were sent on the same day. Now just imagine if sasaeng fans actually did find out JiMin's real phone number and bombarded him with these messages.
It definitely does make people cringe when we see how desperate some sasaengs can get. We hope that someday the sasaeng culture will no longer exist for not just the safety and privacy of idols but also for a healthier fan culture.
Read More : EXO ChanYeol Mobbed At Airport While D.O. Goes Completely Unnoticed By Fans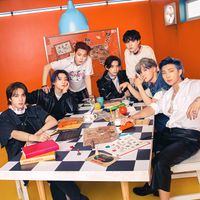 Became a fan of BTS
You can now view more their stories