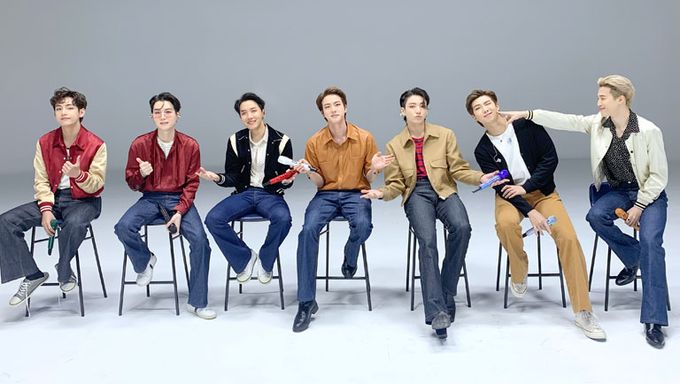 2020 has been a tough year for many and while the worldwide pandemic had caused many inconvenience, humans learn to adapt quickly even in a new environment. Ever since the outbreak of the pandemic, offline K-Pop events were cancelled, music shows no longer have live audiences and so on. It has also caused K-Pop agencies to face many challenges especially financial. At the same, it had also allowed many to think out of the box to not only cater to the interest of K-Pop fans but also continue to promote the K-Pop group.
With that being said, Kpopmap noticed several points as to how the K-Pop scene had changed ever since the outbreak of the pandemic.
1. Offline to online
Everything is going cyber right now! From fansigns, fanmeeting and concerts, it seems like there is nothing capable of stopping K-Pop idols from interacting with their fans.
Idols get to chat with fans through a video call or even interact with them through real time comments sent out during online concerts.
One of the few major K-Pop online events would probably be "KCON:TACT 2020 Summer" as it was held over a week's time this summer. There were a wide variety of corners where K-Pop idols made use of various AI functions to interact and chat with their fans. Needless to say, their stage performances were upgraded to a whole new level thanks to the latest modern technology.
Aside from concerts, one of the most peculiar inventions(?) that happened in the K-Pop industry would probably be an online fansign. We get what a fansign is but how does an online fansign work?
Well, the first K-Pop group to ever hold an online fansign was none other than rookie group, MCND. Fans get to have a short video call session with each member of the group and at the same time, as the phone goes down the line, the members would also sign fans' name on the album.
It is interesting and unique, allowing many other K-Pop idols to follow the same method later on.
There are speculations that even after the pandemic is over, K-Pop agencies will continue to hold online fansigns especially since fans living overseas would get a chance to communicate with their favourite idols.
2. Emergence of various online contents
Since all the K-Pop idols are currently relying on the internet to reach out to their fans, the diversity as well as the types of contents put out are increasing as well. Most K-Pop groups have their own V-Live channel and through it, they began to start series of contents or even do a relay V-Live where members hold a session one after another.
Some of the interesting contents that many K-Pop idols began to do was to make their own bead bracelet, cooking or even decorating of their light stick.
Below is one example of V-Live session that you should definitely check it out!
3. Unexpected release of albums 
For some K-Pop groups, they were supposed to head overseas for a world tour or fanmeeting but due to the pandemic, they are stuck in South Korea. Looking on the brighter side, it gave them more free time, allowing them to focus more on making music or other activities.
One example is BTS as they were supposed to head for a world tour but as it ended up getting cancelled, they began to work on other albums and releases. Their first single, 'Dynamite', is a huge success and it seemed that it might have been a blessing in disguise for them.
The single had debuted number 1 on "Billboard Hot 100", making them the first K-Pop group to do so.
4. Sufficient rest
Since K-Pop idols have more free time than before, many were able to get the extra break which they might not have been able to do so since their debut. Some of them also get to spend more time with their family members and others were also able to just unwind from the hectic and stressful schedule.
5. Opportunities for K-Pop idols to debut as actors
You might notice that there has been a rise in web dramas or even dramas featuring K-Pop idols. This gives them the opportunity to act and also a great chance for other directors to notice their acting skills. They might be cast for another drama in the future!
Some of the notable web dramas that feature K-Pop idols would include "Twenty Twenty" with UP10TION's Kim WooSeok and A.C.E's Chan.
Another web drama that had caught the attention of many is "The World Of My 17" that featured OH MY GIRL's ARin, FANATICS's DoAh and VIINI.
Some other popular web dramas include "Love Revolution" featuring Park JiHoonand THE BOYZ's YoungHoon.
6. Disbandment of K-Pop groups
Despite the positive changes that COVID-19 had brought upon, many small entertainment companies also had ended up disbanding several groups. Many had no choice but to do so as the company is lacking in funds and some also found it hard to continue to manage a group.
For example, NEONPUNCHand SPECTRUM.
It is definitely a sad news for many K-Pop fans and many are hoping that the idols will find strength and not give up on their dream.