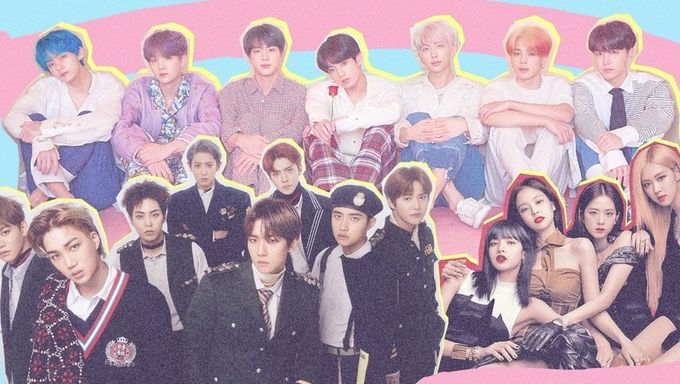 Everyone who considers themselves to be K-Pop fans would know to a certain extent that the industry is tough.
The competition is inevitably high because the mainstream success that K-Pop idol groups aim for is not only a big reward for the idol groups themselves but also for the agencies that manage and produce them.
This is basically why there are so many K-Pop entertainment agencies out there, but only a select few that have been able to go major. To sustain a business, an agency would need enough profit made from the idol group that they created. However, the investment that goes in to producing an idol group is hefty. The money, the manpower, and connections that are required isn't easy to put together.
For starters, an average of $1.8 million is roughly needed to launch a K-Pop group. But even with all the money in the world, success is not a guarantee. Some agencies that have major investments from people with probably enough money to burn still continue to do everything they can to barely compete with some of the most successful groups such as BTS, BLACKPINK, EXO, and so on.
If the K-Pop industry continues to go along the way it is shifting at the moment, one can't help but wonder about how mid-sized agencies, or even startup entertainment companies, will be able to stay in the game long term.
Groups such as SEVENTEEN, MAMAMOO, MONSTA X, and others on a similar scale have fortunately been able to catch the attention of enough fans, both in the domestic and international K-Pop market, perhaps due to the timing of K-Pop becoming a world-wide phenomenon in recent times. While international fans can to a large extent agree that their popularity have surged in the past few years, there was a time that fans of these types of groups have been frequently saying they deserved more recognition and were underrated.
But will groups that debut from this point on that are also on a similar scale as mid-sized company idol groups have the same fortunate scenario?
Some names that come to mind are Ateez, (G)I-DLE, ONEUS, Cherry Bullet, VERIVERY, Newkidd, M.O.N.T, MCND, and CRAVITY.
The good news is that because the K-Pop market has to a large extent shifted its focus towards the US and basically anywhere outside of South Korea, as long as agencies do business overseas, there's probably still always a way to make things work. The bad news is, domestic agencies have to be able to persuade investors or major labels and distributors overseas that the groups that they are creating are profitable on the long run.With so many groups and agencies out there in the scene, it's not like the competition is any easier even with the whole world's focus on K-Pop at the moment.
Did you know that there were over three hundred girl groups in the K-Pop scene back in 2018?
It's likely it will become increasingly difficult to create a K-Pop idol group for small and mid-sized agencies, while the major companies who have a long history in the industry continue to maintain their competitive edge. In fact, the industry has even seen cases of acquisitions in recent times, as Big Hit Entertainment acquired Source Music and became the largest shareholder of Pledis Entertaiment. Agencies that are big enough to forge alliances with overseas labels have been getting straight to business as SM Entertainment have a partnership with Capitol Music Group and Caroline (SuperM), YG Entertainment with Interscope (BLACKPINK).
Groups such as for example ATEEZ and (G)I-DLE, who have done significantly well despite not having been around for as long as some of the other popular groups, perhaps are the ones that more attention needs to be paid to. ATEEZ have sold out their first overseas tour when they were fresh rookies, and (G)I-DLE's talents clearly show as they play a big role in producing and writing their own music, a rare sight to see in girl groups.
Yet, many fans of these groups will be inclined to agree that the need for that extra nudge is still present. They've generated enough noise to get everyone's attention, but what happens from this point on? How do they take it up to the next level?
And this is pretty much what the global phenomenon of K-Pop has created, a bigger potential for everyone to achieve, but a competition on a much larger scale than the one that preceded it.