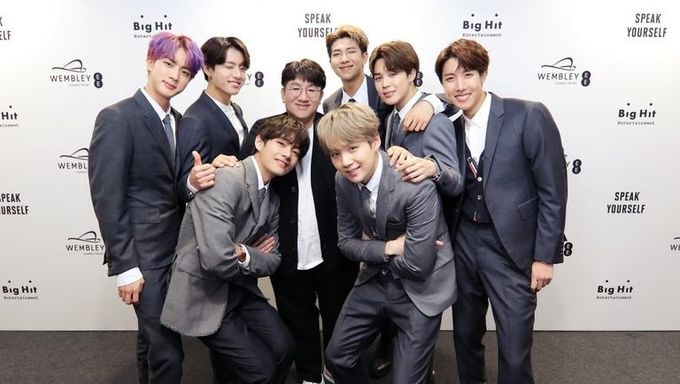 Even if you're an out of touch, technophobic boomer who isn't exactly pop-culture savvy —you might have come across K-Pop at some point.
It's impossible to escape it these days.
Take a glance at Twitter trends at any time of the day and you will find people discussing their favorite "idols".
Of course, it's hard to talk about K-pop without mentioning the Bangtan Boys or as they're more popular known; BTS. This Korean boy band alone is worth more than $4.65 billion to South Korea's economy each year (which is 0.3% of the country's GDP). In fact, one in every 13 tourists who visit South Korea do so to attend a BTS concert.
BTS are on the top but they are far from the only stars in town. Girl groups like Mamamoo, TWICE, and Blackpink have repeatedly dominated international charts. They all have armies of fans or 'stans' across countries that have an almost cult-like dedication towards them.
For a small country like South Korea to dominate global pop-culture is a phenomenal feat. However, what's much more impressive is how K-Pop continues to grow in popularity.
The Rise of K-Pop
The modern K-Pop became a thing when the boy band H.O.T emerged on the scene. A year later, South Korea enforced restrictions on Japanese cultural imports in the wake of the 1997 Asian financial crisis. As this happened, the country's Ministry of Culture started to invest heavily in local arts to fill the cultural void.
In the early 2000s, groups like Super Junior, Big Bang, and Girls Generation started receiving some international attention thanks to the rise of social media and video-sharing websites. But it wasn't until Gangnam Style that K-Pop became a global phenomenon.
Nowadays, Korean music has become an international juggernaut. It's inspiring fashion trends across the world. "Girls, in particular, consider idols like Hwasa of Mamamoo and Sana of TWICE as fashion inspo," says Julia Markle of ClothingRIC. She has written extensively on how anyone can look like a Korean celebrity.
The popularity of K-Pop is heavily fueled by internet culture. "Stans" (overzealous fans much like one depicted in Eminem's 2000 music video) promote their favorite artists. Memes of K-Pop idols often go viral.
When you're about to say something but then decide it's not worth the effort pic.twitter.com/NA7V8hGDuF

— 9GAG (@9GAG) May 6, 2017
In many ways, the international popularity of K-Pop is the product of social media. Keeping this in mind, it shouldn't have lasted for this long. The internet moves fast. Everything here has a shelf-life and trends, subcultures, and fandoms all fade away after a while.
Whether it was Crazy Frog in the early days of the web or Fred in the infancy of YouTube, things that gain traction on the digital realm quickly become irrelevant. Yet somehow, K-Pop has defied this one constant rule of the internet.
K-Pop's Consistent Presence on the Internet
Those of us who are now seeing their videos on our social feed would think BTS is a new band. But that's not exactly the case. Bangtan Boys were formed in 2010 and made their debut in 2014.
Six years later, they're not just the biggest band in the world but they seem to be growing in popularity. Their latest video released two weeks ago (as of writing) has more than 74 million views already.
The genre as a whole is getting bigger every day. SuperM, a group formed just last year, went on to top the Billboard 200 chart with their debut. They are the first South Korean band to have their first album top a US chart.
People behind K-Pop bands have created something that would make marketers around the world envious. They seem to have discovered the secret formula for an everlasting virality.
How they managed to achieve this makes for an interesting case study.
Why K-Pop Continues to Grow Big
There's a lot that goes into K-Pop marketing. Companies behind these pop heartthrobs sign deals with international agencies, collaborate with western artists and do what every entertainment company must do to promote their talent.
However, these companies do most of the marketing by creating a chain reaction of sorts. This model of promotion can be explained in three steps.
Step 1: Content is Created to Fuel Fandoms
Korean stars constantly share behind the scene footage, dance & singing practices, and travel videos. They do live streams from their homes almost regularly where they answer fan questions.
Companies such as Big Hit Entertainment Co. which manages BTS encourages such content. Not just this, K-Pop businesses get the fans involved by routinely having their favorite stars participate in popular reality shows, talent contests, and game shows.
In 2 Days & 1 Night, stars explore their favorite places in South Korea.
Survival Audition K-Pop Star is a show where talent agencies find their next big stars
The popular show Running Man has idols completing missions to win a race.
All of this gives fans an inside look into the lives of their beloved superstars. It makes the idols all the more relatable and gives birth to what's known as fandoms.
Step 2: Fans Create Their Own Content
From The Beatles to Backstreet Boys, musical heathrobes have a recorded history of crazed followers. However, K-Pop fans are a different breed altogether. They're extremely well-organized and protective of their idols.
K-Pop fandoms of different groups have their distinct name:
Fandom - Groups
ARMY - BTS
Merries - Momoland
Blinks - BlackPink
Orbit - LOONA
There's also an entire glossary of terms that have emerged in the K-Pop subculture. "Bias" is the favorite member of any particular fan. "Visuals" is the aesthetic appeal of a member or a new look they might have come up with. "Comeback" is when a group releases a new music video.
K-Pop fandoms have created a distinctive eco-system on social media.
You can't take momoland nowhere lolpic.twitter.com/FjLbHcFNCA

— ✊🏽 leigh (@momolandtriple1) July 9, 2020
They create a slew of content that consists mostly of short clips from reality shows, contests, and behind the scene footage that K-Pop groups share on their official pages.
In other words, the genius marketers behind Korean pop sensations deliberately lace the fandoms with material that can be used to further promote these groups.
And that's exactly what happens.
Step 3: Fans Promote the Idols
What's fascinating is that much of marketing for K-Pop bands does not happen through official means. Instead, it's the fans who take ownership of these groups and actively promote them on social media.
For instance, fan cams of Korean idols are almost ubiquitous on social media. To the annoyance of everyone that's not a stan, fandoms spam these fan cams under every tweet that goes viral.
BTS — Go Go (Jimin Focus) pic.twitter.com/tOHmYhfBPM

— Jimin fancams (@FancamsJimin) July 8, 2020
"Stan LOONA" is a phrase that's often used by fans of popular girl group LOONA, asking others to join their fandom. It has become a popular meme and even Elon Musk has gotten in the fun.
Fans promote their favorite idols without expecting anything in return. While the material they create is rough around the edges (as you'd expect with fan content), one cannot deny its impact.
Is there a Lesson to Be Learned?
Brands would love to have devoted advocates like BTS ARMY and LOONA's Orbit. While that's a difficult feat to achieve when you're marketing lifeless products instead of charismatic idols, there are still lessons to be learned.
Just like K-Pop marketers go beyond usual social media updates to share snippets of the idols, brands too can cultivate relationships with their customers by giving them behind the scenes footage of their upcoming products.
To create an online ecosystem similar to the K-Pop one, brands can create shared symbols (hand gestures and terminologies) and make them a recurring theme in their promotional efforts.
Likewise, the key to K-Pop success remains fan content. Brands can encourage their own followers to create content by incentivizing them with free products or give them the opportunity to cover a product's launch.
Conclusion
The K-Pop industry continues to expand and grow each day. Much of this success is owed to all the marketing that goes into it. Interestingly, it's not the marketing agencies doing the bulk of promotions but the fandoms who are extremely committed to their favorite groups.
What the Korean pop industry has done is unlocked the secret to eternal virality. People who are tasked with turning a group of 7-9 singers into a global sensation have realized their limitations and those of conventional marketing.
So along with investing in adverts, billboards, online promotions —they create content that fans can endlessly share on social media. K-Pop fandoms are the reason for its success and these dedicated individuals actively recruit others to join their circles. The fandoms grow and with them, the influence of many boy bands and girl groups.
Analyzing this formula and applying it with slight adjustments can empower brands across industries to achieve something similar. Your product might not become as big as BTS. But it will gain some traction nonetheless.