As many fans may be aware, a huge part about K-Pop is all about the aesthetics. It's not just appearance and visuals we are talking about. It's the whole package, the idols themselves, the stories and messages they portray, and the color scheme of the MV's.
After all, it is an entertainment business and the foundations of it heavily rely on building trust with the audience through aesthetics tailored specifically for them.
One obvious major element of K-Pop aesthetics is the idols themselves. There's a reason why K-Pop entertainment agencies select certain idols based on their looks. It's because that 'look' sells. Of course, each individual agency have their own preference and standards for what visual beauty is. We can clearly see the difference by just comparing SM and YG. While the former tends to favor idols who have a charming prince or princess type of visual, the latter contrast in comparison as they tend to favor idols who don't have double eye-lids and have more of a hip-hop based vibe.
Another element that plays a large part of K-Pop aesthetics is the color scheme. You may have noticed that a lot of K-Pop MV's and concept photos have a similar characteristic about them. They all seem to be extremely colorful or extremely monochrome. The effect of having wild blends of interesting color schemes and having a lack of color are both equally effective in drawing in viewers.
And of course, it's also the story as well. K-Pop MV's all have an interesting story to tell. And in a lot of cases, the stories continue on and on as an idol's career progresses. Take BTS for example. Their 'Love Yourself' saga has had ARMY guessing and coming up with fan theories every single time the group releases new content.
Read More : The One Thing That Korean ARMY Hates About BTS's Agency Big Hit Entertainment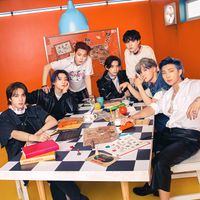 Became a fan of BTS
You can now view more their stories