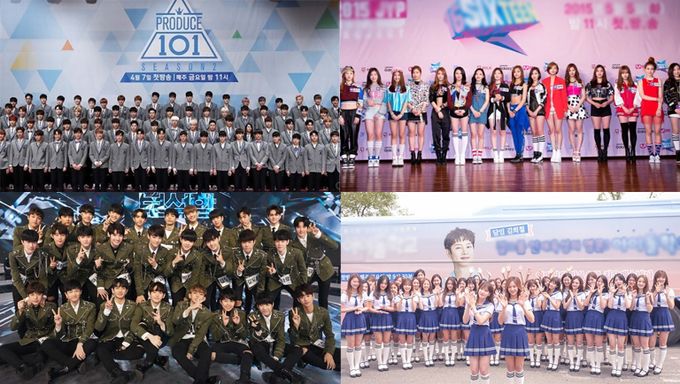 For the past few years, K-Pop fans have witnessed the rising amount of survival shows. Most of them take place in the form of an audition program where participants would have to go through rigorous training and evaluation before they find out if they had passed and awarded the debuting spot.
This also involved the participation of fans through live voting or accumulated votes throughout the shows.
With that being said, let's take a look at how such survival shows have evolved across the year.
1. Among entertainment companies
If we were to look way back at the start of survival programs, credits have to be given to K-Pop veteran group, Shinhwa. They created a program along with Mnet called "Let's Cokeplay: Mnet Battle Shinhwa" where the winning group, Battle, debuted.
In the show, K-Pop fans would notice K-Pop artists such as G.NA, SECRET's HyoSung and Brown Eyed Girls's GaIn.
Other familiar faces such as former BIGBANG member SeungRi and former Highlight member Jang HyunSeung had also made their appearances.
After the start of this, other survival shows among entertainment companies began to emerge. Long time K-Pop fans would recall that JYP Entertainment created "Hot Blood Men" which led to the formation of 2PM and 2AM.
Soon enough, Jellyfish Entertainment made 10 of their trainees went under "MyDOL" which led to the debut of VIXX.
After which more shows such as "WIN: Who is Next" and "Mix and Match" by YG Entertainment, "KARA Project" by DSP Media, "No.Mercy" by Starship Entertainment, "Sixteen" by JYP Entertainment, "Pentagon Maker" by Cube Entertainment, "d.o.b (Dance or Band)" by FNC Entertainment, "Finding Momoland" by MLD Entertainment, "Stray Kids" by JYP Entertainment, "YG Treasure Box" by YG Entertainment, "I-LAND" by Belift Lab and more were created.
2. Appearance of large scale survival shows
Continuing the trend of survival shows, Mnet took on larger scales of survival shows and many would definitely call out the "Produce 101" series that included over 100 contestants each season.
There was "Produce 101" Season 1 which gave birth to I.O.I, "Produce 101" Season 2 for Wanna One, "Produce 48" for IZ*ONE and finally, "Produce X 101" for X1.
Other similar survival shows included "Boys 24", "Idol School" and "Mixnine".
3. Revival survival shows
Given the fact that there are so many K-Pop groups that are trying to get their name known, some of them disband even before they could receive the limelight.
As such, producers wanted to give them a chance to shine again and created programs such as "The Unit". Through the show, K-Pop fans saw groups such as UNB and UNI.T made their debut and promote.
Of course, we also cannot forget about "Queendom", "Road To Kingdom" and the currently airing "KINGDOM: LEGENDARY WAR" where active K-Pop idol groups compete for the crown.
4. Cross country survival shows
With the news that NCT Hollywood is seeking suitable candidates in the U.S., it is hard to deny that K-Pop survival show is freshening things up by taking it outside of Korea.
Although there is not much detailed information yet, we know for sure that SM Entertainment had partnered up with MGM Worldwide Television Group. This could suggest that SM Entertainment had decided to step into the survival show game.
In addition, Mnet had announced that they will be holding a female trainee survival show that includes participants from Korea, Japan and China called "Girls Planet 999". It is set to air sometime this year and this could also suggest that the program might be aired outside of Korea too.
5. More to come?
While such survival shows continue to find their place among the K-Pop community, many K-Pop fans are beginning to wonder how each of them will differentiate from each other and keep the content fresh.
Some are also suggesting that the continual release of survival programs could only lead to harsher competition among existing K-Pop groups and saturation of the industry.