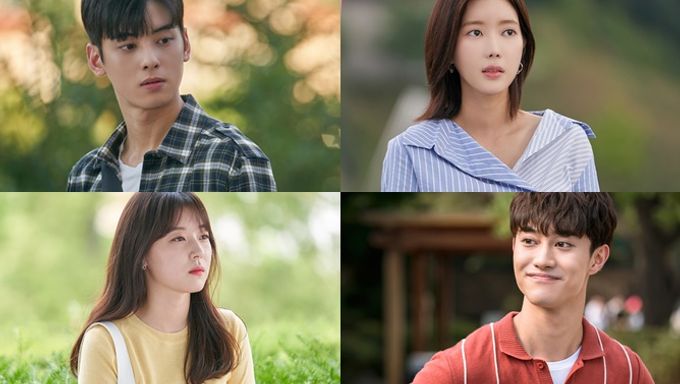 "My ID Is Gangnam Beauty" is attracting quite a lot of viewers. Many are curious about the characters' fashion. All of them have distinct styles that are perfect for university students or others.
The blog "Paesyeonbyuti Kkirukkkiruk" made a combination of how to dress like each character and brands they wear. Let's have a look at it.
Do KyungSuk (ASTRO's Cha EunWoo) is a cold-looking handsome guy. For his shirt, on the left, it is from LACOSTE Live and on the right from tiformen. The character's accessories are also an important part of his fashion. The bag is from MANDARINA DUCK and the shoes are from Converse.
Kang MiRae (Im SooHyang) underwent plastic surgery and is trying to understand what is real "beauty". She wears casual and lovely outfits. The dress is from DEBB, the earrings are from Lovcat bijoux, the sweater is from Saint-James, and hoodi is from ON & ON.
Hyun SooAh (Jo WooRi) is the campus queen. She wears feminine and lovely outfits. The bag is from LANCASTER, the earrings are from MILTON STELLE, and the blouse is from Mayddle.
Yeon WooYeong (Kwak DongYeon) is the TA of the chemistry department. He wears a dandy look. The shirt is from Andew and the watch is from Briston.
What is your favorite style?
Read More : Reasons Why Do KyungSuk (Cha EunWoo) Is The Perfect "Some Nam" In "My ID Is Gangnam Beauty"