BTS member Jin, Mr. World-wide Handsome, is handsome and he knows it.
He's often been caught checking himself out intently and admiring himself, and to be fair, who wouldn't be doing the same if they looked like him right?
Jin is actually quite the comical character at times with this particular characteristic of his. But that's exactly why the fans love him even more, since he also brings laughter and smiles for the fans as well.
However, there seems to be one full proof way of killing Jin's confidence. Jin himself has revealed this little detail before in the past, and has also stated that this is how he sometimes keeps his ego in check as well. 
Right, because when you are too handsome, you also need a way to make sure you don't get too arrogant and practice being humble.
So how does he achieve this? 
By cutting off his bangs in a very short and choppy manner. Jin stated that he did this on purpose before in the past to try and be humble.
But we beg the differ. 
Sure, he may not be confident about how he looks with short and choppy bangs, but he doesn't seem to realize that he still looks fine with them.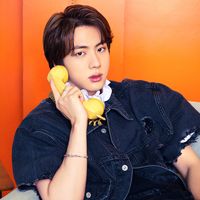 Became a fan of Jin
You can now view more their stories