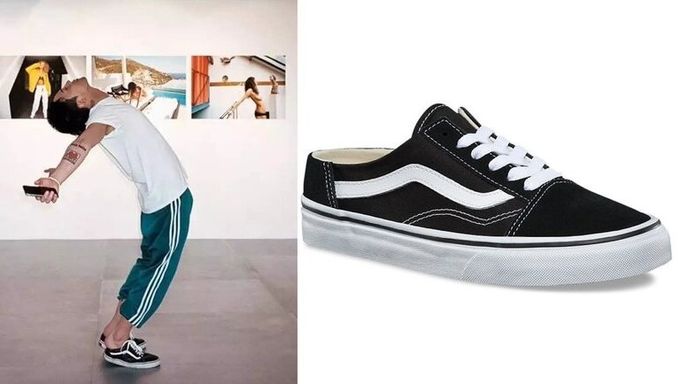 If there's ever a pair of shoes that have never gone out of style, it's Vans.
The classic skateboard footwear brand has been timeless, as not just skateboarders but fashion icons and celebrities have always consistently been repping them for several decades.
Some of the most popular models are the Era, Old Skool, Slip-Ons and Authentic.
For any casual outfit and daily look, a pair of Vans can do wonders as it allows you to rock a look based on simplicity yet still trendy and safe as well.
You can check out some of the outfits that idols have put together below with their pair of Vans.
RM of BTS has done quite an excellent job putting together an outfit that goes well with a pair of Vans' Old Skool model.
The ones below are the Old Skool Hi-Tops, which he put together with crew socks and a t-shirt from Golf Wang.
While Jennie (BLACKPINK) usually wears more expensive choices of footwear, she did bust out a pair of the highly popular checkerboard patterned Slip-Ons in the past.
And being the most fashionable young woman on the planet, she accessorized as well.
Lisa (BLACKPINK) is perhaps one of our favorite idols when it comes to relaxed fashion. Sure, she may be the face of luxury designer brands like BVLGARI and Celine, but Lisa's down-to-earth vibes when wearing relaxed attire is just as attractive as her goddess-like visuals on the red carpet.
Below is an outfit that looks very natural, relaxed, and gives off a vibe that appears as if it wasn't intentionally put together after putting lots of thought into it, yet remains very stylish.
Pink is a color that represents Rosé (BLACKPINK) really well. If you pair them with a pair of nice joggers, you can never go wrong in terms of daily looks.
Joggers and Vans, while one might think that it's much too over-worn by everyone, it's alright. Even the king of fashion G-Dragon (BIGBANG) puts them together when going about on his daily business.
Utilizing crew socks is a classic skater look that never goes out of style as well.