Nobody doubts that SuHo is one and only, good leader of EXO. Here are his thoughtful acceptance speeches from 2013.
There is no denying that EXO has been by far one of K-Pop's most successful and influential boy group of all time. For EXO to grab that honor, all the members of EXO have struggled so far, but especially, SuHo worked well as a leader of team. 
SuHo is known as a humble, nice, diligent man who always has kept members belong together well. Recently, his neat and well-organized awards acceptance speeches are the topic. I bet all of you must fully read his truth toward team EXO and love, passion for them. 
Must Read : EXO Members' Personality That You Can Know Through Their Diary
Let's check out what SuHo said to YOU, fans of EXO and feel how he felt about us!
2013 MAMA "Album of the year"
We all were honored for fans to give us the big awards here, MAMA last year, and again, thank you sincerely for giving us the biggest awards this year. 
First of all, Teacher Lee SooMan, SM TOWN family, manager brothers, and our lovers, members and our parents. Our EXO's fans all around the globe, I heartily thank you.
Every time we received the big awards, I couldn't be merely happy. Because I thought we didn't deserve those and many thoughts came up to us. 
Then, somebody told us to enjoy the moment and we want to say thank you to him/her.
Now, this moment, 11 o'clock 43 minutes 34 second, Friday November 22nd, 2013. I will never forget, enjoying this very moment and try our best all the time. 
Thanks and love you.
Let's love, EXO.
2014 "Artist of the year, Album of the Year"
Heartily thank you, MAMA, who amazed us many times today. 
Teacher Lee, SM family, and our members with me for now, EXO-L all of your who are always with us, thank you so much.
Even today, I had a lot of thoughts on my mind, but I would simply enjoy this.
What makes EXO here is us. What makes EXO here is EXO-L. What makes EXO is, it's because we are one. 
Just like today, if we are one, under any circumstances, EXO could exist as EXO forever.
Thanks for being together. EXO-L, EXO, we are one. Let's love.
2015 MAMA "Album of the year"
Today, 4 awards for MAMA, and 3 album of the year in succession for 3 years. It's a big honor to have those and thank you MAMA.
Of course, teacher Lee and our SM family, thanks so much. Thank you, who struggled to make EXO shine. 
And EXO-L, I love you so much.
Actually, I don't think that the size of award does matter. 
What really matters is depending on who got this award and what they're going to do from now on. 
EXO will show you the real ones in order to make this award get bigger and bigger value by showing the real ones, singing the real ones and doing the real ones as real artists. 
We are one, EXO, Let's love. Thank you. 
EXO-L, I love you.
2016 MMA "Artist of the year"
In MMA we received 5 awards for today and were given these big awards for 4 years in succession, however, it's the most meaningful award today. 
There are too many pniors' performances, BTS and TWICE. Also, MAMAMOO, SEVENTEEN, Red Velvet, you performed great ones. I appreciated that.
Though, in the end, as I watch senior, SECHKIES's performance, I have no idea why tears came up, but anyway I could learn a lot of things from SECHKIES's performance. 
What's in my head right eople to whom I express gratitude. Teacher Lee, SM family and staffs, manager brothers, thank you so much.
I was impressed by junow is the only one. Our EXO-L, I want to stand up on the stage with you 10 years after, 20 years after, forever.
I want to be that kind of artist.
EXO-L, thank you so much and love you.
We are one, EXO. Let's love. Thanks.
2017 "Soba Best K music Awards"
It's the first Soba K Music Awards today. I'm so happy to receive the first award from here, as EXO.
Firstly, teacher Lee, staffs, SM family, thank you. 
Above all, It's possible for us to get three awards today only because of EXO-L, you.
This is the first grand prize for "The War" in 2017. So it comes to us as a very meaningful thing and this album was a big challenge for us.
It was a challenge to make a song of new genre, but I'm satisfied to get loved and attention from many people.
2017 is going to the end almost, but we, EXO just started. 
Hope you anticipated on EXO's activities left for this year. 
We are one, Let's love.
And I miss our members, who can't participated today, ChanYeol and Lay. I love you, love yall.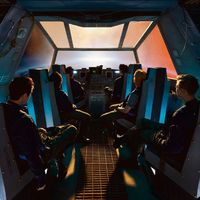 Became a fan of EXO
You can now view more their stories