Just recently on May 30th, HyunA performed at the CheongJu University festival.
And unfortunately, the weather wasn't exactly optimal as it was raining, causing the stage floor to be inevitably slippery. Which is exactly the reason why HyunA, who seemed to be quite in the moment as she was performing, to fall face flat on the hard floor.
Despite just smashing her face on the floor, she got back up and resumed her performance.
View this post on Instagram
Fortunately, HyunA uploaded some photos on Instagram after visiting the hospital, revealing that she had a CT scan and everything was fine. However, judging by the photos, her face did end up slightly bruised.
HyunA also uploaded a photo of the medicine that she was prescribed for a faster recovery.
View this post on Instagram
"The CT scan results revealed everything was fine. My wrists are ok as well after getting an x-ray examination. Don't worry!!!! I'm very sturdy.
We hope the K-Pop diva recovers soon!
Read More : What Netizens Are Saying About HyunA's Bikini Top Nearly Falling Off Exposing Her Breasts During Concert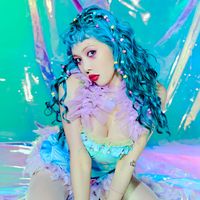 Became a fan of HyunA
You can now view more their stories