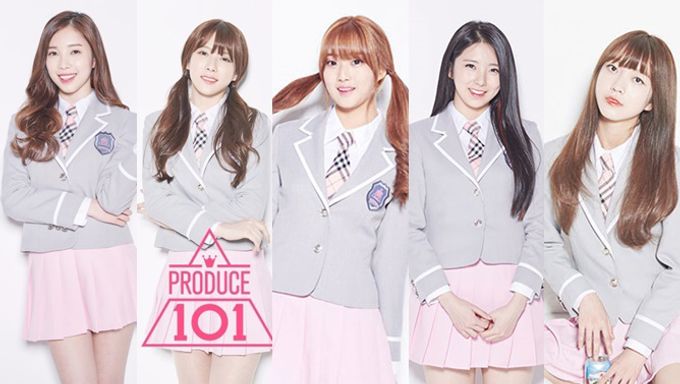 Produce 101's I.B.I is coming to give their sister group, I.O.I a run for their money!
I.O.I's sister group, I.B.I will be debuting as a project group under Loen Entertainment! I.B.I stands for Il Ban In, which means ordinary people. The group was made as a slight parody of the I.O.I girls. The girls were created after many Produce 101 fans had requested another group to promote under the Produce 101 title. As so, I.B.I will promote in similar styles as the I.O.I girls. The members consists of Produce 101 member who placed just under the top 10. The group will consist of 5 members, Han HyeRi (12th place - Star Empire Entertainment), Lee SooHyun (13th place - private), Kim SoHee (15th place - Music Works), Yoon ChaeKyung (16th place - DSP Entertainment) and Lee HaeIn (17th place - private).
I.B.I are currently in production for their upcoming debut project album, which will drop sometime in August 2016. The girls will be competing alongside the I.O.I unit group next month, giving Produce 101 fans something epic to look forward to!
Let us introduce you to the I.O.I sisters, I.B.I!
I.B.I Members Profile
Years Active: 2016
(LOEN Entertainment)
Han HyeRi
Blood Type : A
Height: 159 cm
Weight: 42 kg
Training Period: 11 Months
Specialty: Telecast Dance
Interesting Fact: Star Empire Entertainment Trainee, 12th place in Produce 101
Lee SuHyun
Blood Type : B
Height: 167 cm
Weight: 50 kg
Training Period: 1 year 10 months
Specialty: Mimicking
Interesting Fact: SS Entertainment Trainee, 13th place in Produce 101
Kim SoHee
Blood Type : A
Height: 162 cm
Weight: 41 kg
Training Period: 1 year 4 months
Specialty: Singing, Dancing
Interesting Fact: Music Works Entertainment Trainee, 15th place in Produce 101
Yu ChaeKyung
Blood Type : AB
Height: 160 cm
Weight: 45 kg
Training Period: 4 years 4 months
Specialty: Acting
Interesting Fact: DSP Entertainment Trainee, 16th place in Produce 101
Lee HaeIn
Blood Type : A
Height: 165 cm
Weight: 49 kg
Training Period: 5 years
Specialty: Singing
Interesting Fact: SS Entertainment Trainee, 17th place in Produce 101
Must Read : Update On Where The Produce 101 Girls Are Now