DREAMCATCHER has been gaining attention from netizens with their 1st full length album "Dystopia : The Tree of Language" lately.
The reason behind is because of the mysterious masked dancer who has been performing together with the girls for their title track 'Scream'.
If you did not already notice, aside from DREAMCATCHER, there is a dancer wearing a mask. You can take a look through their dance video below.
For this comeback, member HanDong was unable to take part because of her solo schedules in China. Instead of making a choreography with just the 6 remaining members, they had decided to have a dancer take her place.
With that, the identity of the masked dancer has caused fans and netizens to become curious. The dancer was able to wow many with her skills and she even has her own fan-cam!
Once again, no one can escape from the eagle eyes of netizens and it was noted that this dancer is probably the one behind the mask (white top).
https://www.instagram.com/p/B8209HoJr9b/
Although it is not official, many are guessing based on her hair color as well as the group photo which she had taken together with DREAMCATCHER.
Some might recognise her as she had also previously worked with K-Pop idols like Red Velvet, TVXQ, Jeon SoMiand so on.
Are you also amazed by her dancing skills?
Read More : [MV] Dreamcatcher - 'Scream'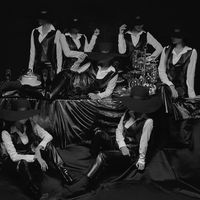 Became a fan of DREAMCATCHER
You can now view more their stories