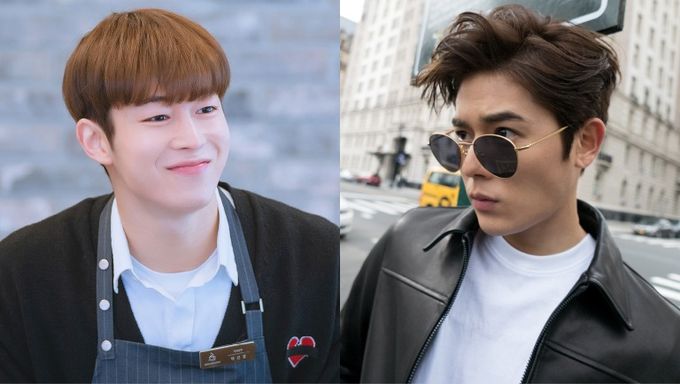 Idol actors are some of the most hard-working artists in the industry, simultaneously managing and acing their musical and acting careers. At the same time, they're constantly improving themselves and aiming for a level higher. One of the best parts about being in the K-Pop fandom is the fact that we get to engage with and learn more about our favourite idols through behind-the-scenes videos, reality shows, V-Live, Instagram live shows, and more.
As such, it is natural that some of our favourite artists are also incredibly endearing and loveable, primarily because we can relate to them and feel close to them as people before being fans of them as artists. Idol actors often become the subject of much discussion and fantasy, more so because, besides their musical concepts, they also present themselves on screen by taking on characters in varied genres of dramas, including romance, which is bound to make viewers and fans think of them in a rosy, romantic light.
With that said, here are 5 idol actors who definitely give us a boyfriend vibe!
All the SF9 members are equally dreamy and admirable with acting careers of their own. However, the latest addition to the SF9 idol actors' squad is DaWon, who is currently appearing in the popular tvN supernatural drama "Doom At Your Service". His character, Tak SunKyung is not only the most adorable but DaWon makes him even more endearing. Do you know what most of his clothes were made of? Boyfriend material.
DongJun gave us a severe case of second lead syndrome on his romance drama "More Than Friends", garnering even more fans than he had before. Part of the reason why audiences could not figure out why he would ever be the second lead was that we can't help but wish that he'd be the main lead in our lives!
L, who goes by Kim MyungSoo as an actor, has been an actor in the industry for quite a while now, taking on a varied range of roles from serious ones to more playful ones. However, something that is common in all his character is that they inevitably end up stealing our hearts. After all, who wouldn't fall for that cute dimple!
Cha EunWoo has successfully made any real-life campus romance feel dissatisfying for us because there's no way we'll ever find someone as caring, loyal, dedicated, loving, sensitive, protective, and of course, handsome a partner as Cha EunWoo. His personal sense of style is also warm and comfortable, oozing college boyfriend energy.
Ong SeongWu makes quiet and shy boys look cooler than ever. Watch one drama starring Ong SeongWu and you'll end up looking for the introverts around you with the hopes of making a boyfriend just as amazing as SeongWu out of him. While there's nothing wrong with that, no one can beat the real deal.
Which other idol actor would you add to this list? Share your thoughts with Kpopmap in the comments section down below!